Dominguez makes Angels pay for intentional walk
Dominguez makes Angels pay for intentional walk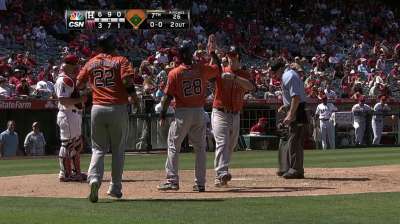 ANAHEIM -- The Angels tried something in the seventh inning Sunday that no other team had done against the Astros this year -- intentionally walk catcher Carlos Corporan. And Matt Dominguez made them regret it.
Dominguez stroked a tiebreaking, three-run homer into the left-field bullpen off Juan Gutierrez to back another strong outing by starting pitcher Brett Oberholtzer and send the Astros to their second consecutive series win with a 7-5 victory over the Angels.
The Astros have taken back-to-back road series over the A's and Angels after previously not winning a series in two months. They improved to 9-7 against the American League West division-rival Angels this season, including 7-3 at Angel Stadium.
"We have been playing really good baseball, even the last few series that we didn't fare so well and didn't win the series," Astros manager Bo Porter said. "We're swinging the bats really well. Our starting pitching continues to do a good job. I felt like we ran the bases really well this series and got a lot of big hits to give us some extra cushion as well."
The homer by Dominguez, which was his career-high-tying fourth hit of the game, opened up a 6-3 lead, but it wasn't until left-handed reliever Kevin Chapman induced Peter Bourjos to hit into a game-ending 4-6-3 double play that the Astros could allow themselves to draw an easy breath.
"We're starting to win these close games," said Dominguez, who went 4-for-5.
Oberholtzer (3-1) had his fourth consecutive quality start, allowing three runs and seven hits in six innings. He and teammate Jarred Cosart are the only pitchers this year to begin their careers with quality starts in their first four outings.
"I think we're playing with a little swagger, a little confidence about ourselves," Oberholtzer said. "All of our starters have been giving our team a chance to win, and when we can get some runs like that -- What was it? Seven runs? -- that should be able to get the team a win."
L.J. Hoes, who had his second consecutive three-hit game (3-for-4), got the Astros going with a solo homer in the first inning that was the first of his career. The Astros took a 3-0 lead in the second with five hits, including an RBI double by Robbie Grossman that was the only extra-base hit of the inning.
"We're playing well as a team," Hoes said. "The pitching staff has done a good job keeping us in the game and guys are swinging the bat really well. We're doing everything we can to win games and have been playing well as a team lately."
Josh Hamilton, who won Saturday's game with a walk-off homer in the 10th inning, tripled to start the second and scored on a sac fly. The Angels got with a run, 3-2, in the third when Mike Trout doubled and scored on Mark Trumbo's single, and Hamilton blasted a solo homer in the fourth to tie the game.
Oberholtzer retired nine of the next 10 batters following Hamilton's homer, which was his sixth of the season against the Astros.
"I didn't have the best of stuff today, but I told myself in the first, especially in the second, to stay away from the big innings, bear down and try to throw strikes and get outs," he said. "It worked through six."
Hoes sparked the Astros' rally in the seventh with a leadoff single, moving to second on an errant pickoff throw by Gutierrez (0-4). He was still on second with two outs when the Angels walked switch-hitting Corporan in favor of facing red-hot Dominguez, who went 8-for-15 in the series.
"They had confidence they could get me out more than they could Carlos, and that's how baseball is," Dominguez said. "There are no hard feelings. I try to go up and do what I can, and I got a good pitch to hit. I was fortunate."
Gutierrez, formerly of the Astros, threw a first-pitch slider that Dominguez crushed for his 16th homer.
"It just spun, stayed middle-in, and Dominguez didn't miss it," said Angels manager Mike Scioscia. "[Gutierrez] did a good job, I think, of making some pitches today; unfortunately the one that we really needed, he just hung it a little bit. It happens."
Jose Altuve added a sacrifice fly in the eighth to stretch the lead to 7-3, and Trumbo hit a two-run homer off Jordan Lyles in the eighth. Porter summoned Lyles, scheduled to start Monday, to try to throw the final three innings, but he was pulled in the ninth with two on base and one out.
Chapman was only going to face Bourjos, with Chia-Jen Lo set to try for the final out, but Chapman induced the double-play grounder for his first career save.
"I was going in there and attacking and got lucky enough to get the ground ball," he said.
Brian McTaggart is a reporter for MLB.com and writes an MLBlog, Tag's Lines. Follow @brianmctaggart on Twitter. This story was not subject to the approval of Major League Baseball or its clubs.