Angels overpowered by Astros in series finale
Angels overpowered by Astros in series finale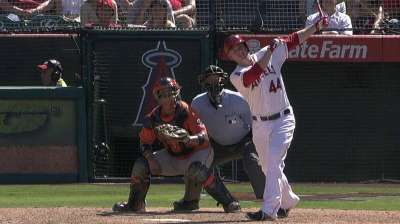 ANAHEIM -- Hours before the series finale against the Astros, Angels manager Mike Scioscia talked about the excessive workload his bullpen has had to endure this season.
Whether it has been the result of injuries or subpar starting pitching, the relievers have been feeling the effects of heavy usage and it was on display again as the Angels lost, 7-5, on Sunday afternoon at Angel Stadium.
"This is a process," Scioscia said. "Our guys are trying, we're playing hard. You can see some of the holes that we are trying to give guys opportunities to fill, and that's where we are."
Jason Vargas lasted just 5 1/3 innings, leaving Juan Gutierrez, Kevin Jepsen and Michael Kohn to pitch the final 3 2/3 -- during which the Astros scored four runs on five hits.
After finishing off the sixth, Gutierrez allowed a single to L.J. Hoes to begin to seventh. Gutierrez retired the next two Astros, but an errant pickoff attempt allowed Hoes to advance to second.
With first base open, the Angels opted to intentionally walk switch-hitting Carlos Corporan, setting up a righty-righty matchup against Matt Dominguez, who made the Angels pay for that decision.
"They had confidence they could get me out more than they could get Carlos, and that's how baseball is," Dominguez said. "There are no hard feelings. I try to go up and do what I can, and I got a good pitch to hit. I was fortunate."
Dominguez, a native of Van Nuys, Calif., hit the first pitch he saw from Gutierrez -- a hanging slider -- into the bullpen area in left field.
"It just spun, stayed middle-in, and Dominguez didn't miss it," Scioscia said. "[Gutierrez] did a good job of making some pitches today, unfortunately the one that we really needed, he just hung it up a little bit. It happens."
The three-run homer, Dominguez's 16th of the season, gave the Astros a 6-3 lead and helped stick the Angels with another series loss -- their 22nd this season.
"We're going to keep playing hard and you have to tip your cap to Houston," Scioscia said. "They played us tough all year, they played us tough this series again."
Vargas, making his second start since he was activated from the disabled list with a blood clot near his left armpit, threw 95 pitches and allowed three runs on seven hits.
"He missed a little bit more than a month, there's going to be a little bit of rust," Scioscia said.
Although Vargas' outing as a whole was somewhat mediocre, it was a tale of two halves. In the first three innings, the left-hander struggled. Seven of the first 11 batters the Astros sent to the plate reached base and three of those scored.
The Astros scored in the first when Hoes hit a solo home run and then tacked on two more in the second.
However, Vargas settled down and retired nine straight to conclude his outing.
"The way he started, his first 35 to 40 pitches, he just didn't look in sync," Scioscia said. "He made some adjustments and actually finished strong. The last two innings he threw were terrific."
The Angels also experienced a scare when Mike Trout was removed from the game with tightness in his right hamstring.
"Out of the box, came around first, didn't really feel anything until I got to second base," Trout said referring to his third-inning double. "Just a little tightness."
Although he was unable to finish the game and was not sure if he would be in Monday's lineup, Trout did not believe the injury was anything serious.
"I just didn't want it to get worse," Trout said. "Didn't want to push it too much."
Mark Trumbo pulled the Angels within two in the eighth inning with a two-run shot -- his 28th home run of the season.
Josh Hamilton, on the heels of Saturday's walk-off home run, had another good day at the plate. After going 2-for-3 with a triple and a home run, Hamilton is 15-for-41 (.366) in his past 10 games.
William Boor is an associate reporter for MLB.com. This story was not subject to the approval of Major League Baseball or its clubs.