Sveum, Russell tossed after check-swing call in seventh
Sveum, Russell tossed after check-swing call in seventh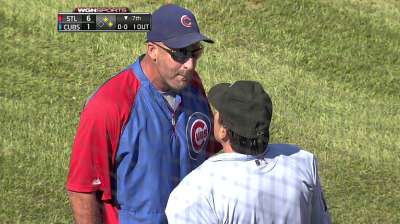 CHICAGO -- All the Cubs wanted was for Phil Cuzzi to ask for some help regarding a check-swing call he made against Donnie Murphy in the seventh Sunday, but the home-plate umpire refused. That led to an animated discussion and two ejections: Cubs manager Dale Sveum and pitcher James Russell.
With two on, none out and the Cubs trailing, 6-1, against the Cardinals and Adam Wainwright, Murphy was called out after he thought he checked his swing. Murphy asked Cuzzi to confirm with first-base umpire Chris Guccione, but Cuzzi refused.
"I said, 'I thought I flinched,' and he told me I swung," Murphy said. "I was so baffled. I couldn't believe he called it. I didn't know what to say."
Murphy checked the replay after the Cubs' 6-1 loss.
"It showed I didn't swing," he said. "What are you going to do?"
Sveum argued the call from the dugout and was tossed, then continued his discussion on the field with Cuzzi.
"It wasn't very questionable," Sveum said. "That's easily the worst check-swing call I've ever seen. That's why the other umpires are there, to give him help."
Why didn't Cuzzi ask the other umpires?
"[Cuzzi] said he thought he got it right," Sveum said.
While Sveum was arguing on the field, Russell said something from the dugout that prompted third-base umpire Tom Hallion to eject him, as well.
"I obviously was busy," Sveum said. "I didn't see what happened."
It's the fifth time this season Sveum has been ejected.
Carrie Muskat is a reporter for MLB.com. She writes a blog, Muskat Ramblings, and you can follow her on Twitter @CarrieMuskat. This story was not subject to the approval of Major League Baseball or its clubs.