Mistakes thwart Giants' attempt to sweep Marlins
Mistakes thwart Giants' attempt to sweep Marlins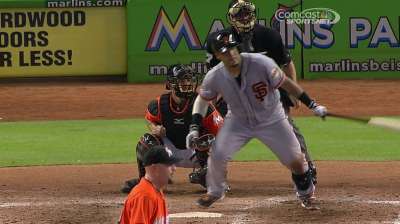 MIAMI -- Andres Torres came close to making a great diving play in center field. Instead, after entering the game in the seventh as part of a double-switch, Torres came up short on snagging a critical Jeff Mathis double.
Mathis brought home Ed Lucas for the go-ahead run in the Giants' 6-5 loss Sunday to the Marlins at Marlins Park. With the victory, Miami denied San Francisco its first series sweep since taking three games from the Dodgers on May 3-5.
"We let this one get away, the way I look at it," San Francisco manager Bruce Bochy said. "... The guys were hoping to get the sweep, but we came up short."
As Torres prepared to dive, he said he felt like his foot got stuck in the ground.
"I tried, but I have to keep in front of it," Torres said. "Things like that happen. You don't want them to happen."
Said Bochy of Torres' dive: "If you've got a shot at that ball, you want to keep [the runner on first] from getting to third base there. It not only hit him, but it bounced so far away, and that's what killed us."
Sandy Rosario, two nights removed from a crucial scoreless appearance in Friday's win, gave up the hits to Lucas and Mathis to take his first loss of the season.
The loss resulted in San Francisco ending its road trip at 3-3 and dropped the club to 10-15 in its past 25 road contests. Even though the Giants are not in playoff contention, Bochy wants the team to continue to push like it did in Miami.
"It's an OK trip, but it could have been a good trip if we get today's game," Bochy said. "I think the guys showed a lot of life. I like the way they're playing and swinging the bats and how hard they're going."
Said Hunter Pence of the team's road woes: "We definitely would like to be playing better, have more wins. It just didn't happen. ... We've got to continue to push, continue to try to progress."
The bullpen faltered in an up-and-down game that began with starter Madison Bumgarner.
The Giants bailed out Bumgarner in the left-hander's worst outing in more than two months. The southpaw gave up four runs on five hits and four walks in five innings against the Marlins.
"It just seemed like every pitch I threw was just a hair off in the wrong direction," Bumgarner said.
Bochy added: "He was a little off. He made some mistakes. He had good stuff. He showed some frustration there, I think, got the best of him along with close pitches. He's competitive and wants those pitches."
Bumgarner entered Sunday's game with 10 quality starts in his past 11 outings and a 1.80 ERA in 75 innings since June 14. In a season during which Matt Cain and Tim Lincecum have struggled, Bumgarner has been the Giants' ace.
But Bumgarner proved he was not perfect Sunday, and his spotty connection with batterymate Hector Sanchez -- filling in for a resting Buster Posey -- contributed to a disappointing outing for the southpaw.
"He had a rough day behind the plate," Bochy said. "Catcher's interference, getting beat up, but he did swing it well. We just gave up too many runs there."
Mathis' third-inning solo shot was the only blemish on Bumgarner's line through three innings. A two-run homer by Pence had the Giants ahead, 2-1, through 3 1/2 frames.
But the fourth inning brought trouble for Bumgarner.
He gave up a leadoff single to Giancarlo Stanton and retired Logan Morrison on a popout, setting up a potential double play with Justin Ruggiano coming to the plate.
But when Ruggiano swung at a curveball that very well could have turned into a much-needed ground ball, the Marlins outfielder instead smacked Sanchez's mitt, resulting in a catcher interference call.
"He was just too close to the hitter and that hurt," Bochy said.
Lucas and Adeiny Hechavarria followed Ruggiano with back-to-back RBI singles to put the Fish ahead, 3-2. Ruggiano could have added another run on the Lucas base hit had he not been caught between second and third on a double steal.
After Pence drove in his third run of the day on a single to tie the game again in the fifth, Bumgarner and Sanchez gave the lead right back to Miami. Again, Ruggiano was involved.
With runners on first and second and two outs, Ruggiano drew a 3-2 walk, but the fourth ball was wild and got past Sanchez. Sanchez took several seconds to recover and locate the ball, allowing an opportune Donovan Solano to score from second.
San Francisco roared right back in the seventh with two runs via a Brandon Crawford solo homer and an RBI double from Sanchez, who gave the Giants the lead and redeemed himself for his miscues behind the plate.
Pablo Sandoval, who reached base with a two-out single, raced home for the go-ahead run and scored on an ugly slide, tumbling through the right-handed batter's box before touching the plate with his toe.
However, San Francisco failed to protect yet another hard-fought lead.
Beginning his second inning in relief, Guillermo Moscoso walked Christian Yelich to lead off the frame and surrendered the advantage one pitch late on a Solano double to left.
The Giants did not regain the lead ceded by Moscoso as Rosario allowed the winning runs to score with his ill-fated turn in the eighth.
Joe Morgan is an associate reporter for MLB.com. This story was not subject to the approval of Major League Baseball or its clubs.