Peralta's inconsistency at forefront in loss to Reds
Peralta's inconsistency at forefront in loss to Reds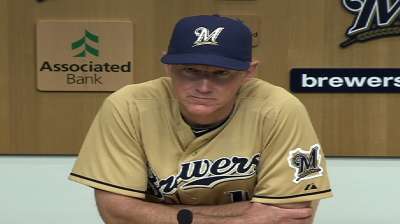 MILWAUKEE -- Wily Peralta has been overwhelmingly good over the last two months, but when things have gone bad, they have gone exceptionally bad.
Singled into submission on Sunday, Peralta was tagged for seven runs on eight hits in 4 1/3 innings of a 9-1 loss to Homer Bailey and the Reds. It split the four-game series and continued the 24-year-old Peralta's all-or-nothing trend.
Over his last 11 starts, including both his three-hit shutout of the Reds on July 9 and Sunday's stinker, Peralta owns a 2.88 ERA. That stretch includes losses to the Cubs, Rockies and now the Reds in which Peralta surrendered at least seven hits and seven runs (though not all earned). In two of those games, he did not get through the fifth inning.
Peralta is puzzled by his own inconsistency.
"I don't know," he said with a shrug. "Today was a tough day."
Sunday's loss included a heavy dose of bad luck. The Reds scored five of their runs in a second inning that included two walks and five hits. All were singles to left field, the final three of which were ground balls between the shortstop and third baseman.
"I think if I had better command with the fastball today, something else would have happened," said Peralta. "That's what I'm trying to do, just keep the ball on the ground, and if they hit it right at people, we can get a double play and get out of the inning. These kind of days are going to happen -- they're going to find a hole for a base hit."
Two of those seeing-eye hits accounted for four Reds runs. Ryan Hanigan's two-run single was the Reds' fourth consecutive single to open the inning and put the Brewers in a 2-0 hole. Five batters later, after a run scored on a Martin Maldonado passed ball, Brandon Phillips made it 5-0 with a two-out single to almost the same spot.
The Reds tacked on four more runs in the fifth inning against Peralta and fellow right-handed prospect Tyler Thornburg, who came in from the bullpen, but provided little relief. After a walk, a wild pitch and a one-out single by Chris Heisey made it 6-0, Thornburg replaced Peralta and allowed one inherited runner to score and then walked two runs home, while recording the final two outs of the inning on 31 pitches.
Thornburg, just moved back to middle relief after allowing only one earned run in 18 innings as a starter, worked 1 2/3 innings on Sunday and issued five walks.
"I think this is a learning process," said Maldonado, Peralta's personal catcher. "Especially for a young guy, the faster he [gets] away from that, the better he'll be."
Maldonado planned to talk with Peralta on Monday to make sure Peralta had moved on, and figured that veteran Kyle Lohse, who has taken Peralta under his wing, would do the same.
Peralta's next start will be a rematch with the Reds on Saturday in Cincinnati.
"Hopefully, he bounces back, and the next one is a good one," Brewers manager Ron Roenicke said. "It's just his command. When his command is off, he's not going to pitch well. His command was off today. He didn't have the good sink today, and when it's off like that, it's frustrating for a power pitcher. …
"It's frustrating, because I feel for him and what he's trying to do. He'll go on a good run and have 2-to-3 good starts, and you think he's just going to take off and do that every time, and he doesn't. It's more trying to figure out how we need to work with the mental side of it, [and] if he gets out of whack on the physical side, what we need to do so he doesn't have these [types of] games. Everybody is going to have one bad game like this, but, I mean, the inconsistencies we have seen from him...
"Almost every single young pitcher that comes through the big leagues goes through this stuff. All the good ones, if you look back at what they did, they scuffled somewhere in their career, and usually it's the first year or the second year."
Peralta salvaged his outing by holding the Reds scoreless in the third and fourth innings. Maldonado credited that success to the changeup the duo discovered while retiring Jay Bruce on a foul popup to end the long second frame.
"Probably a little bit too late, and that's probably my fault," said Maldonado. "I should have known him better than that, to call that changeup earlier in the game than late."
Playing from behind for most of a sun-splashed afternoon, Brewers hitters mustered little against Bailey, a right-hander who entered the day 1-7 with a 6.03 ERA in his first 13 career starts against the Brewers, including 0-3 with a 6.33 ERA in five starts at Miller Park.
He held them to three hits on Sunday -- Scooter Gennett's two-out double in the second inning, Khris Davis' solo home run in the fifth inning after the Reds had extended their lead to 9-0, and Davis' infield single in the seventh.
Bailey struck out eight batters against one walk.
"He's the same thing as Wily. When he has command, and he had command of all his pitches today, he's going to be very difficult to hit," Roenicke said.
The Reds capped a 5-2 road trip and were satisfied with the series split. It beat the alternative -- losing a series to a Brewers team that entered the weekend in last place in the National League Central.
"It's a big, big difference," Reds manager Dusty Baker said. "Especially when we won the first one here, and then you're thinking three out of four, thinking sweep. As it is, we're happy with what we got."
Adam McCalvy is a reporter for MLB.com. Read his blog, Brew Beat, and follow him on Twitter at @AdamMcCalvy. This story was not subject to the approval of Major League Baseball or its clubs.