Hanigan, Reds provide plenty for stellar Bailey
Hanigan, Reds provide plenty for stellar Bailey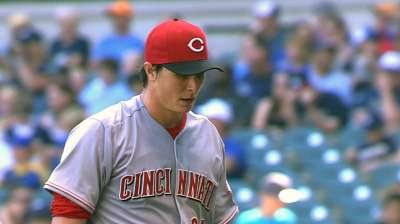 MILWAUKEE -- Reds starter Homer Bailey is used to seeing crooked numbers on the scoreboard when he faces the Brewers.
The right-hander entered Sunday with a 1-7 career mark and a 6.03 ERA in 13 starts against Cincinnati's National League Central rival, including two meetings this year in which he coughed up 10 earned runs on 18 hits in 12 2/3 innings.
On Sunday, though, it was two big innings for the Reds that helped Bailey put an end to his bad luck against the Brewers, resulting in a 9-1 Cincinnati win and a four-game split at Miller Park.
"For some reason, this team's usually done pretty well against me," Bailey said. "Since we see these guys so many times, I'm starting to get a better feel for it."
Bailey was comfortable on Sunday, cruising through eight innings with his only mistake coming on Khris Davis' fifth-inning home run. He retired 12 of the first 13 batters he faced, and he finished with just that one run on three hits, while walking one and striking out eight.
The win helped the 27-year-old right-hander wash the bad taste out of his mouth from two subpar outings to start August. Despite taking a win and a no-decision against the A's and Cubs, Bailey allowed nine earned runs on 15 hits in 11 2/3 innings his last two times out.
On Sunday, he was back to the pitcher who ended July with three consecutive quality starts.
"He had a very good slider, fastball is always good and he was strong..." Reds manager Dusty Baker said. "It was great to get [Bailey's record] to 8-10, and hopefully we can get him to 10-10 soon."
Cincinnati upped its own record to 70-54 and pulled to within 2 1/2 games of NL Central-leading Pirates, who fell in 16 innings to Arizona on Sunday.
Baker noted the importance of securing a series split against the Brewers and leaving Milwaukee with a 5-2 record on the road trip, compared to a possible 4-3.
"It's a big, big difference," Baker said. "Especially when we won the first one here, and then you're thinking three out of four, thinking sweep. As it is, we're happy with what we got, especially if that's the position you're put in."
The offense that was ever so quiet in the Reds' 2-0 loss on Saturday opened up in a big way Sunday with two huge innings to back Bailey. Cincinnati posted a five-run second inning and a four-run fifth inning on Brewers starter Wily Peralta and reliever Tyler Thornburg, sending 10 batters to the plate in each frame.
The nine runs are the most scored by the Reds since July 23, when they beat the Giants, 9-3, in the first game of a doubleheader.
Ryan Hanigan started at catcher for Cincinnati for the first time in the series and fourth time since coming off the disabled list on Aug. 9. He had two hits and three RBIs, and seven of the nine Cincinnati starters registered a hit, while five had one RBI or more.
The Reds roughed up Peralta for five of their 10 hits in the second inning to jump ahead, 5-0. Four straight singles to left field started the frame, ending with Hanigan's grounder between short and third that plated two runs. Peralta was able to get two outs, but a Martin Maldonado passed ball brought in a run, followed by another two-run single from Brandon Phillips.
"That's the key, is getting hits and getting consecutive hits and getting two-out hits," Baker said. "We got all of those. You don't have to hit the ball out of the ballpark necessarily to win the game. I like to see us get consecutive hits more than anything."
The Reds padded their lead in the fifth inning with four more runs. Peralta walked Phillips and gave up an RBI single to Heisey before giving way to Thornburg with one out. The young right-hander surrendered another RBI single to Hanigan and walked in two runs, part of four walks in the inning. All 10 of Cincinnati's hits were singles, but that did not matter to Hanigan.
"Just a bunch of hits from a bunch of good at-bats," Hanigan said. "If we can keep having at-bats like that, I think the offense will get going. I don't think we've really clicked, top to bottom of the order, offensively, and it was nice today to put up the big number there offensively."
Peralta's day was finished after 4 1/3 innings. The 24-year-old right-hander coughed up seven earned runs on eight hits, while walking four and striking out four. He threw 93 pitches, 53 for strikes. On July 9, Peralta threw the first Brewers complete game of the year -- and first in 407 regular season games -- against the Reds. He was not nearly as effective on Sunday, and luck was not on his side, either, as several Reds hits found their way through the infield.
"I think, if I had better command with the fastball today, something else would have happened," said Peralta, who shrugged off the Reds' seeing-eye singles. "It's something I went through early [in the season]. That's what I'm trying to do, just keep the ball on the ground, and if they hit it right at people, we can get a double play and get out of the inning. These kind of days are going to happen -- they're going to find a hole for a base hit."
Kevin Massoth is an associate reporter for MLB.com. This story was not subject to the approval of Major League Baseball or its clubs.