Porter credits umpires for right call on tag play
Porter credits umpires for right call on tag play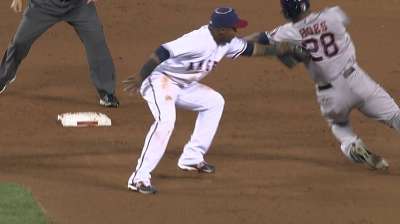 ANAHEIM -- Astros manager Bo Porter conceded Sunday the umpires did what they could to make sure they got the right call during a controversial play in the ninth inning of Saturday's extra-inning loss to the Angels.
The game was tied at 5 in the ninth when Astros outfielder L.J. Hoes was called safe at second base with a leadoff double despite Angels shortstop Erick Aybar tagging him out. Second-base umpire Eric Cooper ruled Hoes safe, but the umpires huddled and overturned the call.
Porter argued at length with Cooper and first-base umpire Jeff Kellogg and said after the game he had not seen the replay, which clearly showed Aybar tagging Hoes.
"They got it right," Porter said. "It's unfortunate for us, but I'm all for getting things right in baseball. It's unusual to see that happen, but I guess you could say the consolation prize is at the end of the day the umpires did get it right."
Porter said last week he was a proponent of expanded instant-replay use in baseball because it would be used to ultimately get the calls correct. But Porter said it was the first time he had ever seen umpires overturn a safe-out call after the umpires huddled.
"I've seen umpires out of position for one reason or another and they rely on the other guys on the crew," Porter said. "But [Cooper] was in position and for whatever reason, his view got obstructed. I'm a complete advocate for getting calls right, and in the heat of the moment you want your guys to be safe and put your team in the best position to be successful and have a chance to win. After going to look at the replay, you have to give those guys credit. They got it right."
Brian McTaggart is a reporter for MLB.com and writes an MLBlog, Tag's Lines. Follow @brianmctaggart on Twitter. This story was not subject to the approval of Major League Baseball or its clubs.