Rehabbing Anderson feels good, eager to help club
Rehabbing Anderson feels good, eager to help club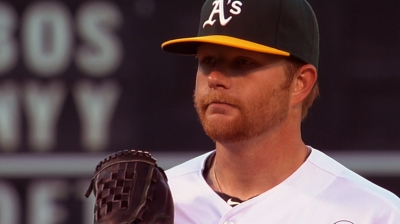 OAKLAND -- The results from Brett Anderson's first rehab start on Saturday weren't exactly overwhelming, but that's not what mattered.
Oakland's lefty had no issues with his foot, putting him in the clear for another start on Thursday, either in Stockton at the organization's Class A level, or in Colorado Springs, where Triple-A Sacramento is scheduled to play.
"Foot felt great, arm felt great, maybe a little off on his ball-to-strike ratio, which is to be expected the first time out, but we're just looking for health indications," manager Bob Melvin said, "and everything went good."
"The results and stuff from the rehab outing aren't the first priority," Anderson added. "My foot feels fine and my arm feels fine today, so that's the biggest thing."
Back in game action for the first time since April, Anderson threw 27 of his 49 pitches for strikes spanning 2 1/3 innings for the River Cats, giving up two runs on three hits and three walks with two strikeouts. Melvin said his fastball tapped out at 94 mph and averaged 91, right in line with Anderson's typical velocity.
He'll ramp it up to nearly 70 pitches his next time out and, barring any setbacks, his following outing could come in Oakland. Whether it's in a starting or relief role has yet to be determined, though the former seems likely now that Bartolo Colon (left groin) is sidelined on the 15-day disabled list.
"They asked me if I wanted to start and I told them whatever is best for the ballclub," Anderson said. "With Bartolo going down, that seems to be the need. I feel comfortable starting."
That's because it's mostly all Anderson has ever done. But Melvin said the club is keeping its options open.
"Originally, we were just going to pitch him out of the bullpen," Melvin said. "Bartolo went on the DL, and now we're just trying to keep our options open so he can potentially do either. We're still not sure what his role will be when he comes back.
"Even if we did start him, you could cut him back on his pitches and use a little bit more of the bullpen. I think what's most important is we don't want to waste his bullets on rehab assignments. We want to get him to the big leagues as soon as we can as long as he's healthy and ready to go. If we're looking at him in a starting role, it might not be 100 pitches his first time out. We just kind of go incrementally from there."
Jane Lee is a reporter for MLB.com. This story was not subject to the approval of Major League Baseball or its clubs.