Stellar before All-Star break, Perez struggling since
Stellar before All-Star break, Perez struggling since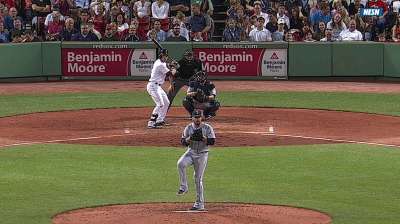 ARLINGTON -- For Mariners left-hander Oliver Perez, a promising season as a reliever has turned south since the All-Star break as the veteran has struggled for the past five weeks.
Perez, 32, had a sterling 1.72 ERA in 38 appearances before the break, holding opposing hitters to a .208 average. But in 10 outings since, his ERA has been 18.47 with 18 hits and 13 runs in 6 1/3 innings and opponents have hit .486 in that span.
"I'm not quite sure," acting manager Robby Thompson said after Perez gave up six runs on five hits and two walks while getting just two outs in Saturday's 15-3 loss to Texas. "We'll have to visit that a little and make sure he's OK arm-wise and mentally.
"He hasn't been the same, like he was earlier I the year. It could be fatigue, I'm not sure. But his command is not what it was."
It's possible that Perez is simply running out of steam after starting his spring earlier than normal in order to pitch in the World Baseball Classic for Mexico. Or perhaps the workload is catching up to him, as his 48 appearances are second on the club behind the 53 of fellow lefty Charlie Furbush.
Greg Johns is a reporter for MLB.com. Follow him on Twitter @GregJohnsMLB as well as his Mariners Musings blog. This story was not subject to the approval of Major League Baseball or its clubs.