Kazmir's struggles continue as Tribe drops finale
Kazmir's struggles continue as Tribe drops finale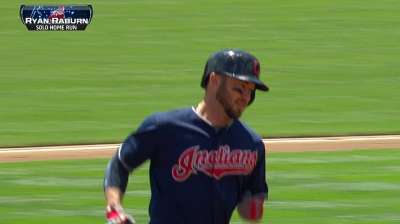 OAKLAND -- Scott Kazmir spent the first two months of this season finding his way on the mound. Over his last two outings, the Indians left-hander has seemingly lost what he had found.
On Sunday, Kazmir struggled through five innings against the A's and allowed a pair of home runs that sent the Tribe on its way to a 7-3 loss at the Coliseum. The lefty denied that he was still dealing with the self-described "dead arm" that plagued him in his previous performance.
This time, Kazmir simply cited a lack of execution.
"My arm felt fine," Kazmir said. "I felt like I prepared myself to get ready for this start. There's no excuses. I felt like it just wasn't my day."
With the win, Oakland took two of the three games to claim the series and knocked Cleveland's record to 3-3 with three games left on this three-city road trip. The A's, who currently lead the pack for the second Wild Card spot in the American League, also dropped the Indians to 4 1/2 games back in that postseason race.
The Indians now head to Anaheim for a three-game set with the Angels.
Inside a quiet visitors' clubhouse, Indians second baseman Jason Kipnis said the time has come for Cleveland to push down on the accelerator.
"You don't have time to be deflated by any of these games any more," Kipnis said. "It's go time. We need to win. There's no time to sit around and feel sorry about losing two of three. We've got three against the Angels that are going to be big games."
It was against Los Angeles on Aug. 9 when Kazmir's career renaissance with the Indians hit a wall. The Angels tagged the lefty for five runs and chased him after just three innings in a forgettable start, following which Kazmir complained of arm fatigue. Given Kazmir's incredible comeback, Cleveland allowed him to rest for eight days leading up to this outing in the East Bay.
Kazmir's arm felt better -- his velocity readings supported that claim -- but the southpaw labored out of the gate in Oakland. Jed Lowrie and Derek Norris opened the first inning with a single and double, respectively, and both eventually came around to score. In the second inning, Josh Donaldson delivered an RBI single to put the A's ahead, 3-1.
"He's fine. He just didn't command real well today," Indians manager Terry Francona said. "I think the layoff was good for his arm strength, but it looked like he didn't have his best changeup and he didn't command his fastball. He had a lot of deep counts, especially early in the game."
The Indians did what they could to counter Oakland's attack, scoring three runs off lefty Tommy Milone in his 4 2/3 innings on the mound.
Ryan Raburn put the Tribe on the board in the second inning, when he sent a pitch from Milone to center field for a solo home run. The blast pulled the Cleveland utility man into a tie with Kipnis (and recently released Mark Reynolds ) for the team lead with 15 homers. In the fifth inning, Kipnis and Carlos Santana came through with run-scoring hits to pull the game into a 3-3 deadlock.
It did not take long for the A's to swing the momentum back in their favor.
"We busted our butts to be able to tie the game up going into the fifth inning," Kazmir said. "It's really crucial and important to have a sit-down inning to get these guys back up to the plate. It just didn't happen."
With one out in the home half of the fifth, Chris Young launched a 3-2 offering from Kazmir deep to left-center field, where the baseball bounced off a banner that fans draped over the wall. The sign read, "Respect Oakland Baseball," and there is no doubt Cleveland does in the wake of this series. Two hitters later, Alberto Callaspo belted a solo homer that pushed the Indians behind, 5-3.
Young came through again for the A's in the top of the eighth, but with his glove.
With two outs and Tribe shortstop Asdrubal Cabrera on first base, Michael Brantley scorched a pitch from reliever Ryan Cook on a line to deep center field. Young sprinted back, spun, back-pedaled for a few steps and then reached as far as he could to snare the baseball out of the air. Young made the catch just shy of the warning track, robbing the Indians of a run.
"With my luck," Young said, "I assumed it was going to hit the top of the wall or something."
Instead, it killed Cleveland's comeback attempt.
"That was an unbelievable play in center field," Francona said.
The A's added a pair of insurance runs in the eighth inning by taking advantage of a fielding error by first baseman Nick Swisher. With two outs, Cabrera scooped up a routine grounder from Norris and fired the ball across the diamond to Swisher, who missed the catch, allowing Callaspo to score from second base. Donaldson followed with an RBI single.
It proved to be too much damage for the Indians to overcome.
Over his past two starts, Kazmir has gone 0-2 with an 11.25 ERA, allowing 10 runs on 16 hits (three home runs) in just eight innings. In his previous nine turns -- a stretch that ran from June 21-Aug. 4 -- Kazmir went 4-0 with a 1.93 ERA, .173 opponents' batting average and allowed just two home runs across 56 innings.
Kazmir's comeback tale remains impressive, considering he was released by the Angels in 2011 and wound up pitching in Independent ball last summer. The lefty's lack of innings over the past two years (103 2/3 innings combined between the Majors, Minors, Indy League and winter ball) might also explain the recent woes.
Hopefully, for Cleveland's sake, Kazmir can recover and find himself once again.
"He's been a great starter for a while now," Kipnis said. "He's a feel-good story and a good guy. You come from Indy ball and you're going out there and putting up zeros. Everybody likes the guy. He's a great teammate and everyone's rooting for him. He knows what he needs to fix."
Jordan Bastian is a reporter for MLB.com. Read his blog, Major League Bastian, and follow him on Twitter @MLBastian. This story was not subject to the approval of Major League Baseball or its clubs.