After first two hits, Ludwick aims to improve timing
After first two hits, Ludwick aims to improve timing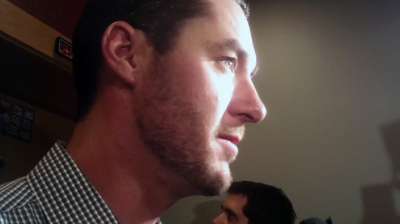 MILWAUKEE -- It has been a long, grueling road back from a right shoulder injury for Reds left fielder Ryan Ludwick, but on Saturday, he got his first two hits of the season out of the way in Cincinnati's 2-0 loss to the Brewers at Miller Park.
Ludwick, who dislocated his shoulder during the first game of the season and did not return until the start of this road trip, finished Saturday's game 2-for-3 with an infield single to the right side of the infield in the fifth inning and a bloop single to center field in the seventh.
"It's been a long road back. One day at a time," Ludwick said. "I think the most important thing is trying to win ballgames, and we've done a pretty good job of that thus far. Let's keep rolling, man. Still feeling it out, man. Taking it one day at a time."
Ludwick is now 2-for-14 in six games this season. But even with his two hits Saturday, he continues to say his timing is not quite right.
"Look at my at-bats," he said. "Just think of my last at-bat last night. [Brewers reliever Brandon Kintzler ] threw a first-pitch sinker down and in -- probably wasn't within a foot of the strike zone. I swung at it, and I was probably a foot out in front of it. Just timing. It's been really tough joining mid-season and trying to get that timing.
"But it'll come. I've just got to be patient, and that's what everyone's saying, be patient and let the process play out. That's the toughest part. Grinding."
Reds manager Dusty Baker said that although Ludwick's two hits were not pretty, they're a good sign that things are starting to go his way.
"Doesn't matter -- a hit's a hit," Baker said. "I told him yesterday, I remember talking to Jose 'Cheo' Cruz years ago. His nickname was 'Chop-Chop,' and he was in a slump, and I heard one of my teammates who was also in a slump say how he wanted to just knock the pitcher off the mound or hit one out of the ballpark. [Cruz], who was a perennial .300-hitter, he just said, 'Hey, man…' and I was talking to him, he goes, 'I'll be alright. I'll chop-chop one, and then I'll flare one to the opposite field.' And that's what he did. That next night, I think he had four or five hits. A hit's a hit. When you're 1-for-11, I don't care what a hit looks like. It takes the pressure off you.
"Especially since they started putting the batting average up there [on the big screen]. When you're going good, it's wonderful to look up there. When you're going bad, you kind of like, peek up there. You know what I mean? And you see .099 or .111. That's not a good feeling. You keep telling yourself you're 0-for-11, then you're going to be 0-for-12."
Kevin Massoth is an associate reporter for MLB.com. This story was not subject to the approval of Major League Baseball or its clubs.