Hanigan takes over behind plate in finale
Hanigan takes over behind plate in finale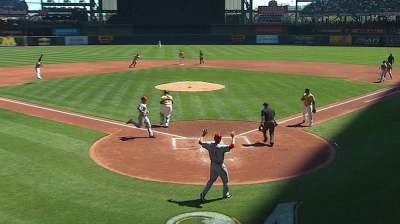 MILWAUKEE -- Ryan Hanigan started behind the plate on Sunday for the fourth time since coming off the disabled list for a sprained left wrist on Aug. 9.
Hanigan, who caught the final three innings of Friday's 7-6 loss, missed a month on the disabled list, and he said his wrist still bothers him while he's hitting.
"It's getting there," Hanigan said. "It only affects me offensively. It's still a little bit sore, but it's manageable right now. I've got the strength back, but it's not too bad."
Hanigan was the Reds' primary catcher prior to his stint on the DL, getting three starts to every two for Devin Mesoraco, according to manager Dusty Baker. Mesoraco started the first three contests of this weekend's four-game series at Miller Park.
"We need both of them," Baker said. "Mes has been calling a great, better game and throwing better, hitting better. And Hanie's starting to swing it now that his hand's better. He looks better."
Hanigan entered Sunday hitting 2-for-9 with a double, an RBI and four walks in five games and three starts since returning from the DL. Hanigan also missed time with a strained left oblique in late April, and early May and was hitting .195 (30-for-154) on the season.
"You just keep at it, do what you can when you get in there and try to get yourself going and help your team," Hanigan said.
Kevin Massoth is an associate reporter for MLB.com. This story was not subject to the approval of Major League Baseball or its clubs.