Jordan hopes he's done enough to impress Nats
Jordan hopes he's done enough to impress Nats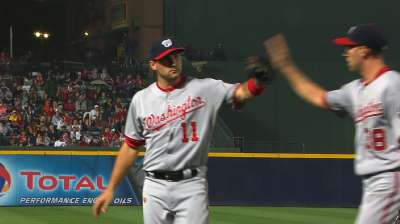 ATLANTA -- After he was placed on the disabled list because of a lower back strain, Nationals right-hander Taylor Jordan said he received word from assistant general manager Bryan Minniti that his season would come to an end.
Jordan was on an innings limit after having Tommy John surgery in 2011. He pitched a combined 142 innings in the Major and Minor Leagues, won 10 games and had a 1.96 ERA.
"This season went by really quick. It wasn't really a grind for me. I've had worse," Jordan said. "Hopefully, what I did impressed them enough for me to have a chance to [be in the big leagues] next year."
Last week, Jordan's back acted up while he sat in a dentist's chair. The injury is not considered serious. He last pitched on Friday in a 3-2 loss against the Braves, allowing two unearned runs in six innings. After the game, Jordan was getting treatment for the back and it was decided that his season was going to come to an end. If the injury didn't occur, Jordan would have had at least two more starts.
"I noticed [the injury] after I got out [of the dentist's chair]," Jordan said. "I was signing papers after that because I was sitting down for a little while. That's when I first felt it. It wasn't like the dentist did anything."
Jordan said he would like to add a cutter to his arsenal of pitches, which includes the fastball, slider and changeup. He believes a cutter will be useful against left-handed hitters. He will start developing the pitch this offseason.
"I kind of want to get a new pitch," Jordan said. "I just want to keep the ball down and try to make every pitch count. My slider has been getting better. I want to keep everything how it is."
Bill Ladson is a reporter for MLB.com and writes an MLBlog, All Nats All the time. He also could be found on Twitter @WashinNats. This story was not subject to the approval of Major League Baseball or its clubs.