Lawrie making most of health in August
Lawrie making most of health in August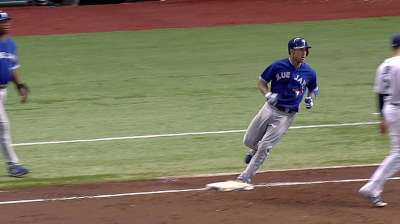 ST. PETERSBURG -- After a disappointing first half of the season that was marred by injuries, third baseman Brett Lawrie has emerged as the hottest hitter in the American League during August. It has been quite a turnaround for a player who struggled to keep his batting average above .200 earlier this year.
"He's locked in right now," manager John Gibbons said. "He's confident, and he's doing everything right."
Going into Sunday's game, Lawrie, who was hitting .199 on July 22, was batting .426 for the month, tops in the AL, boosting his season average to .262. Lawrie's 26 hits in August also led the league. He collected hits in 18 of his last 20 games going back to July 28. Furthermore, he has struck out less than 7 percent of the time this month, compared with 23 percent during the first half of the season.
Lawrie sustained a strained oblique muscle in Spring Training. While on a Minor League rehab assignment, he was called back to the Blue Jays in mid-April when Jose Reyes sprained an ankle. Lawrie struggled at the plate, then sustained a high ankle sprain in late May, sidelining him for six weeks.
But the most frustrating slump of Lawrie's career appears to be over. He prefers not to talk about his recent resurgence at the plate, but playing every day at third base appears to have made the difference.
"Getting a chance to play every day, that's what's really helped me," he said.
Jim Hawkins is a contributor to MLB.com. This story was not subject to the approval of Major League Baseball or its clubs.