Righty Kintzler cruising against left-handed hitters
Righty Kintzler cruising against left-handed hitters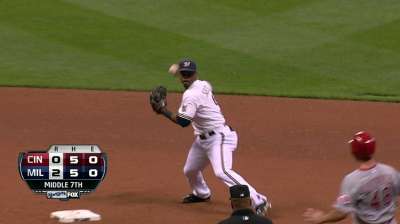 MILWAUKEE -- The Brewers' deadliest relief option against left-handed hitters is a right-handed pitcher, Brandon Kintzler. Truth be told, manager Ron Roenicke is not entirely sure why.
"If you look at what his numbers are against lefties, it's pretty incredible," Roenicke said. "A sinkerballer usually scuffles a little bit with lefties, and for whatever reason, they don't see it. … I don't know why. He must have some late movement that you can't see."
The numbers: Entering Sunday, lefties were hitting .147 (11-for-75) against Kintzler, while righties were hitting .236 (29-for-123) off of him this season. Those numbers were boosted by the 29-year-old's recent hot streak; he has not been charged with an earned run in his last 20 1/3 innings, and he has not been scored upon in 23 of his last 24 appearances, or in and 35 of his last 39.
Kintzler's changeup helps him against left-handed batters, but he has also had success against them with the fastball. In the seventh inning of Saturday's 2-0 win over the Reds, he surrendered a single to Jay Bruce on that pitch, but also used it to record the game's two most important outs, an Xavier Paul double play with the bases loaded.
"I just know, if I stay on top of the ball, I have a good shot," Kintzler said. "The one I threw to Bruce was really flat, but [it's OK] as long as I really stay on top of stuff, and if they hit it through the hole, they hit it through the hole, as long as I keep them on the ground."
Like John Axford, Kintzler is a success story for the Brewers' pro scouting staff. He was pitching for the St. Paul Saints in the independent American Association when Milwaukee signed him in July 2009.
Elbow-related injuries limited Kintzler's contributions in 2011 and 2012, but, "Every time we've seen him here, we really like what we see," Roenicke said. "The first time we saw him, we were surprised what kind of stuff we had. It's not just 93-, 94-[mph]; it's got big movement and he throws strikes. I don't know why, but if you take his fastball and [Wily] Peralta's fastball, and Wily throws it 96, they take worse swings off Kintzler. I don't know why."
"I just want to be able to help the team win, whether that was in the sixth [inning] like I was before, or later," Kintzler said. "It's a lot more fun [to pitch with the lead in the late innings]. I love the intensity of it."
Adam McCalvy is a reporter for MLB.com. Read his blog, Brew Beat, and follow him on Twitter at @AdamMcCalvy. This story was not subject to the approval of Major League Baseball or its clubs.