Gillaspie gets another day to rest sore hand
Gillaspie gets another day to rest sore hand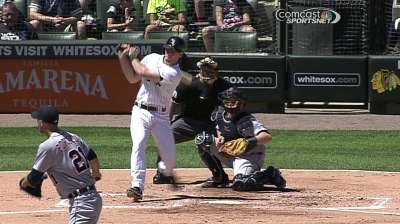 MINNEAPOLIS -- Despite hoping to return to the lineup Sunday, third baseman Conor Gillaspie was given another day of rest after sustaining a bruised right hand Friday night.
As he was fielding a relay throw on Wilkin Ramirez's triple, the ball hit his hand in a sensitive spot, causing it to become swollen. With the swelling down on Saturday, he was available off the bench both Saturday and Sunday.
While he was with the San Francisco Giants in 2008, 2011 and 2012, he only played a handful of games -- 29 total. His 105 games with the White Sox mark his first full season in the Majors.
Batting .237 with 29 RBIs and 10 home runs this season, he's still trying to find comfort at the plate and in the field.
"He hits the ball hard consistently, but he's had a lot of balls you hit right at people," White Sox manager Robin Ventura said. "That's part of playing and learning, of being able to adjust to it and get over it. That's just normal stuff. He has a pretty simple swing. It's simple to maintain which is good news."
Through 87 starts, Gillaspie is working toward becoming the everyday guy at third and is starting to show what he can do on the corner.
"He's gotten better from Spring Training," Ventura said. "He's just doing a lot of work of feeling more comfortable. I don't think he felt that comfortable in Spring Training. Even now, he's a little more fearless in there. He does make a few big plays for us. I think he's just improving, just continuing to get better."
Kelly Erickson is an associate reporter for MLB.com. This story was not subject to the approval of Major League Baseball or its clubs.