Emphasis on development, Castro returns to lineup
Emphasis on development, Castro returns to lineup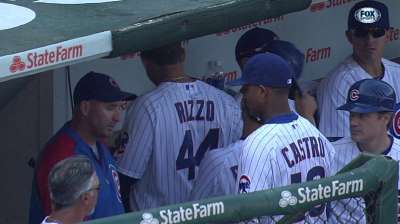 CHICAGO -- Starlin Castro was back in the Cubs' starting lineup Sunday, because manager Dale Sveum felt the shortstop had been punished enough when he was pulled from Saturday's game for a mental gaffe that resulted in a run.
"The way I look at it is, obviously, he had enough punishment -- if that's the right word or not -- but I think to be embarrassed on national TV and what's been written in the paper today, I think that's plenty," Sveum said Sunday. "I don't think this kid can get better by not playing today and understanding the adversity we all go through in the game."
The Cardinals had the bases loaded with one out in the fifth inning Saturday, when Castro caught a popup by Matt Carpenter in shallow left and then put his head down, which was all Jon Jay needed to sprint home from third and score on the sacrifice fly. That run opened a 2-0 lead, and the Cardinals eventually won, 4-0. Sveum benched Castro after that inning for the blunder.
Ironically, Saturday's game marked a career-high 25 straight games at shortstop without an error for Castro. His previous career mark of 24 straight errorless games at shortstop was July 14-Aug. 9, 2011.
"I don't think you get better by sitting around and not doing anything," said Sveum, who met one-on-one with Castro both Saturday and Sunday. "He knows. He was obviously very remorseful and knows what happened. He's a guy who's got to perform for us and be a championship player when we get to that stage in the organization."
This has been a season Castro would like to forget offensively. A two-time All-Star, he began this season with a career .297 average, but entered Sunday hitting .244 and riding an 0-for-16 skid.
"He's got natural hand-eye coordination," Sveum said. "There are a lot of mechanical things that are going on that aren't going to allow you to square a baseball up on a consistent basis. I think he knows that and he's in a fist fight right now to figure it out.
"Like I told him the last couple days, there comes a time when you have to make that adjustment. That light switch just doesn't switch on and you aren't going to square four balls up the next day without making adjustments."
Sveum and his coaching staff have worked with Castro to try to get him back on track at the plate. He seemed to have found his stroke in July, batting .292, but was 11-for-53 (.208) in 15 games this month.
What does Sveum do now?
"You keep playing," Sveum said. "There's no experience better than just playing and learning from your mistakes. There's nothing else you can do. This guy is a good player we have to have play well when we're ready to win a championship. He's got to be there. He's here under contract, and we know it's all there and we have to get it out of him.
"The bottom line is, you have to do it yourself as a player. You're turning into a young man who's been here four years, and there comes a time when we all, as players and men, have to do things ourselves."
One thing Sveum emphasized was that Castro was a good, smart kid.
"He's a great human being and a great kid and tries to do the best he can," Sveum said. "We've got to get that out of him somehow."
Carrie Muskat is a reporter for MLB.com. She writes a blog, Muskat Ramblings, and you can follow her on Twitter @CarrieMuskat. This story was not subject to the approval of Major League Baseball or its clubs.