Lobaton caps series with second walk-off
Lobaton caps series with second walk-off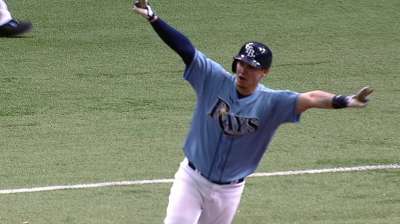 ST. PETERSBURG -- Jose Lobaton called the first walk-off hit of his career the best feeling he had experienced in baseball. He topped it just two days later with his first walk-off home run to give the Rays a 2-1 win over the Blue Jays in 10 innings Sunday at Tropicana Field.
"This is different," Lobaton said. "The triple was amazing, but running the bases knowing you've won the game is unbelievable. You want to do it all the time. You want to feel that feeling every day. Hopefully this isn't the last one."
Tomas and Maria Lobaton chose the right homestand to visit from Venezuela for their first time seeing their son play in the Major Leagues, as Lobaton and his teammates have narrowly won their last two series after losing six straight games.
Lobaton does not foresee his parents making the move to Florida, but manager Joe Maddon is not opposed to the idea.
"They should be season-ticket holders," Maddon said. "They have to be here more often. I can't pick up the tab regarding the flight, but I'll buy Mr. Lobaton's beers at the ballpark. I'm in for whatever we can do to make them more comfortable."
Neither team could break through against the other's starter in the first nine frames, as the only runs prior to Lobaton's came on solo homers: Tampa Bay's Evan Longoria off Todd Redmond in the first inning and Toronto's Edwin Encarnacion off Chris Archer in the seventh.
Longoria has nine extra-base hits in his last 11 games, and he has apparently rid himself of whatever ailed him in July, the worst offensive month of his career. He was intentionally walked in the sixth Sunday.
"The tide is turning back to the point where they're walking him to pitch to [Wil Myers ]," Maddon said. "It had been just the opposite a couple weeks ago. That's good to see. He's back. He's slowing things down again, and when that happens, boom, the confidence jumps."
Archer looked more like the American League Pitcher of the Month he was in July than the rookie who had lost two of his last three starts.
After giving up three straight hits, including Encarnacion's homer, in the seventh, Archer was over the 100-pitch mark but battled Mark DeRosa through a nine-pitch at-bat that resulted in a groundout.
"Every sprint you run, every pitch you throw in the bullpen, every lift between starts, you leave it there," Archer said. "If he gets a knock, whatever, as long as I left it there; I did that, and the ball bounced my way."
Encarnacion nearly had another long ball, off Rays closer Fernando Rodney in the ninth when Encarnacion lined a two-out double to left field that hit the yellow lining at the top of the wall.
The bounces Tampa Bay was not getting on its winless West Coast road trip have started to fall in the Rays' favor again.
"Magic does occur," Maddon said. "We've had some magical moments at the bottom part of the batting order. We've had them defensively. We had one when the ball didn't clear the wall. Those funky things are the types of things that happen when we have our better years. It has that feel to it, but we have to pitch and play defense to permit that to happen."
The Rays squandered a chance to take the lead in the seventh when Redmond allowed consecutive singles to begin the inning. But Jason Bourgeois failed to execute what appeared to be a designed squeeze play, and pinch-runner Sean Rodriguez was caught on his way to home.
"That's me being too aggressive," Rodriguez said. "I'm trying to make something out of nothing. I have to know when to hold back a little bit, especially with nobody out. Luckily, Loby picked me up. That's huge. Now I can leave the clubhouse with a smile instead of frustration."
Redmond did not allow many other opportunities, surrendering just six hits over six innings, yet Toronto leaves Tampa Bay with another series loss. The Blue Jays have not won a series at Tropicana Field since April 2007.
"They're a good team," Blue Jays manager John Gibbons said. "They've got one thing on their mind: winning. Everybody pitches in; everybody has their role."
Sam Strong is an associate reporter for MLB.com. This story was not subject to the approval of Major League Baseball or its clubs.