Redmond weighs in on expanded replay
Redmond weighs in on expanded replay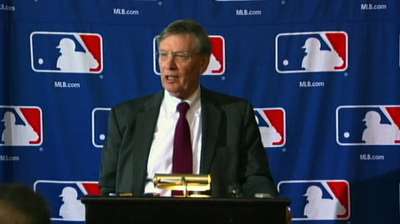 MIAMI -- If it means getting the calls right, then Marlins manager Mike Redmond is all for video replay.
It's inevitable that expanded replay is on the way, after MLB announced Thursday the framework of a challenge system. The initial plan calls for each manager having one challenge for the first six innings and two challenges after the seventh inning.
"Get the calls right," Redmond said. "I think the biggest question as always is going to be the pace of the play."
Another issue Redmond sees is the vantage point from the dugout.
"There are a lot of times as a manager, when I'm sitting here, I can't see the ball down the right-field line," Redmond said. "If that ball is fair and he calls it foul, then I'm going to have to rely on somebody telling me, 'Hey, that ball is fair or foul.'"
With improved technology, replay can be an advantage in a sport where playoff berths can be decided by one game.
No matter what system is put in place, there still will be questions.
"What if you have more than one play in the first six innings?" the Miami manager said. "What if there are three, and you only have one challenge? What if there are five? There are just a lot of questions. I'm sure those will all be answered throughout this process."
Joe Frisaro is a reporter for MLB.com. He writes a blog, called The Fish Pond. Follow him on Twitter Share This