Dickerson shows potential after second callup
Dickerson shows potential after second callup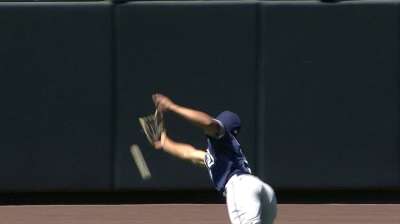 BALTIMORE -- The rapid success of outfielder Corey Dickerson could leave the Rockies rethinking their future roster makeup.
With first baseman Todd Helton expected to retire at season's end and right fielder Michael Cuddyer the logical candidate to change positions to replace him, the going wisdom inside and outside the organization is the Rockies need power in right. The preference would be a right-handed hitter.
But Dickerson, in his second callup, went into Sunday's start in left field against the Orioles batting .317 with two homers and eight RBIs. The belief is he will develop more power with experience. Dickerson, 24, believes he can forge a place for himself.
"I feel like I'm an everyday guy, and they think I'm an everyday guy," Dickerson said. "I think I can help this team with the way I play. No matter what, and I hope it's always with the Rockies, I think I fit in just as well as anybody."
Dickerson has had daily opportunities because of Carlos Gonzalez's right middle finger injury, which has kept him out of the lineup for the last two weeks. From Gonzalez's last game through Saturday, Dickerson batted .357 with a .400 on-base percentage, one home run, four doubles and two triples in 10 games.
Rockies manager Walt Weiss said as long as Dickerson proves he can be an everyday player, the team can adjust its roster and lineup plan. He likes the way Dickerson, who has shown an ability to foul off difficult pitches to prolong at-bats, can swing with gusto even when fooled.
"He doesn't compromise bat speed," Weiss said. "I've seen that with some really good hitters, and that caught my eye with Corey this spring. It seems like he's always in position to take his 'A' swing. Those guys are usually really good hitters."
Dickerson, taken in the eighth round of the 2010 MLB First-Year Player Draft out of Meridian (Miss.) Community College, could turn into a much-needed player development success story for the Rockies.
Several lower-round picks contributed during their recent playoff years -- Clint Barmes, 10th round, 2000; Brad Hawpe, 11th round, '00; Ryan Spilborghs, seventh round, '02, among them. Given the Rockies' lower-to-mid-market payroll model and their emphasis on player development, such success stories are necessary.
But the current roster is almost devoid of such surprises. Dickerson and center fielder Dexter Fowler (14th round in 2004, but a special case because he received second-round bonus money to turn down the University of Miami) are the only Rockies-drafted players below the second round on the current Major League roster. But his story shows how a team can hit on a such a player with homework.
At Brookhaven (Miss.) Academy, Dickerson was a baseball, football and basketball star. Dickerson threw 94 mph as a pitcher and played third base and shortstop before suffering a torn labrum his junior year. Dickerson shifted to the outfield then and played it at Meridian Community College, but he is still a work in progress there. Some of the players who Dickerson had outperformed before the injury became high-round Draft choices, so he always had confidence.
Dickerson needed that inner belief after his first promotion, when he hit .212 from June 22-July 10. He admitted being nervous and not having a routine that could carry him through the sporadic playing time he received.
"It was new for me," Dickerson said. "I'd never really struggled too badly. I struggled once or twice in Rookie ball trying to figure the wood bat out, but since then I'd never had anxiousness to be out there. At this level, you have to realize it's just the same game.
"You have to tell yourself to relax. You pray about it. It's really about the confidence you have in yourself. I let that take over."
Thomas Harding is a reporter for MLB.com. Read his blog, Hardball in the Rockies, and follow him on Twitter @harding_at_mlb. This story was not subject to the approval of Major League Baseball or its clubs.