Brother's cooking helps Sandoval slim down
Brother's cooking helps Sandoval slim down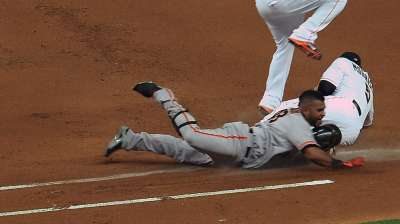 MIAMI -- An extra spring in Pablo Sandoval's step helped the Giants defeat the Marlins, 6-4, on Saturday night. Sandoval, who has shed 22 pounds in the past six weeks, beat out a grounder to first base to plate the first of four two-out runs in the fourth.
"That probably won the game for us, kept the rally going," San Francisco manager Bruce Bochy said. "... He's doing all he can to beat [Miami first baseman Logan Morrison ] to the bag, and that hustle there won the game."
Twenty-two pounds ago, Sandoval said there's "no way" he reaches base safely on that pivotal play.
The Giants have more than one Sandoval to thank for Saturday night's victory. Sandoval credited his recent weight loss to the culinary talents of his older brother, Luis.
Luis Sandoval, 36, is Pablo Sandoval's full-time chef and travels with the 2012 World Series MVP. The eldest Sandoval brother recently graduated from a culinary institute in Miami -- the site where the benefits of the third baseman's new diet have begun to appear.
Pablo Sandoval plans to let Luis also cook for him during the offseason. When asked which dish his brother cooks that he enjoys the most, Sandoval responded, "Everything, man."
Weight problems have plagued Sandoval throughout his MLB career. Currently in the midst of his worst statistical season to date, the two-time All-Star has ample reason to continue with the successful diet cooked to order by his brother.
Sandoval previously made significant progress by losing 38 pounds during the 2010-11 offseason, but he failed to keep the weight off as time wore on. He hopes his new regimen will be enough to get him back into ideal shape.
"It's going to be important for me if I can come to camp in the same shape as I did in 2011," Sandoval said. "…I'm just going to keep working hard for the next season. It's important for me and my teammates, too."
Fortunately for Sandoval, his eldest brother chose to pursue cooking instead of professional baseball like the other Sandoval brother, Michael. However, Sandoval joked that Luis did not have much choice when it came to picking another pursuit instead of baseball.
"He never played baseball," Sandoval said of Luis, laughing. "He was real bad."
Joe Morgan is an associate reporter for MLB.com. This story was not subject to the approval of Major League Baseball or its clubs.