DeJesus helps pick up Castro after mental gaffe
DeJesus helps pick up Castro after mental gaffe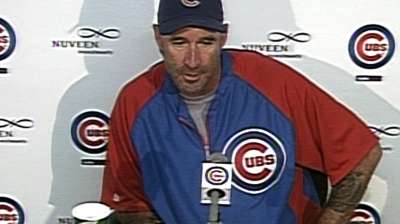 CHICAGO -- After Cubs manager Dale Sveum told Starlin Castro he was coming out of Saturday's game because of his defensive gaffe, David DeJesus was right there, encouraging the shortstop to return to the dugout rather than hide in the clubhouse.
"He made a mistake, but he's still part of the team," DeJesus said Sunday. "Just having him there shows a lot. Yes, you got in trouble, but you're still taking responsibility to go out there and show the young guys coming up that's the right way to be a teammate. It's unfortunate that it happened, but I think if he takes it as a lesson, he'll get over it."
DeJesus also made a point of talking to Castro after the game, which the Cubs lost, 4-0, to the Cardinals.
"At the end of the day, I was like, 'Hey, man, you'll be back in the lineup tomorrow, so let's start fresh,'" DeJesus said. "You just have to be positive. It's probably humiliating. There's probably a lot of emotions going through his brain right there. You try to pick him up and say, 'Hey, let's go tomorrow, don't worry about what happened today, and let's start fresh.'"
Not only has Castro struggled at the plate, but he also lost his mentor when Alfonso Soriano was traded to the Yankees. Soriano took Castro into his home when the young shortstop was called up in 2010.
"He always had 'Sori' to lean on, that was his guy, that was his veteran guy," DeJesus said. "Now, he's pretty much that guy for the other guys. It's going to be different but that's part of being a professional.
"Baseball will take you out of your comfort zone," DeJesus said. "He came in and he was coddled as a young player, and had 'Sori.' In this game, nothing is ever for sure. Now he has to understand there's a different role he has to take on, and he's going to be the 'Sori' to a lot of the young Latin guys coming up. He's got to take that role and run with it."
Some players aren't comfortable in that leadership role. But the Cubs are counting on the 23-year-old Castro, which is why they gave him a seven-year, $60 million contract last August.
"It's at that time of his career where those things probably need to start happening and where people do look up to him, but not everybody is that guy, either," Sveum said. "Not everybody is Soriano.
"The one thing you don't want to put on people is something that's not in their personality. Sometimes things click, sometimes people hit rock bottom, and that's the last time you see them. Let's not kid ourselves, there could be another gaffe somewhere along the line, too, and it's not meaningful or anything."
Carrie Muskat is a reporter for MLB.com. She writes a blog, Muskat Ramblings, and you can follow her on Twitter @CarrieMuskat. This story was not subject to the approval of Major League Baseball or its clubs.