Wilson on track to be activated Monday or Tuesday
Wilson on track to be activated Monday or Tuesday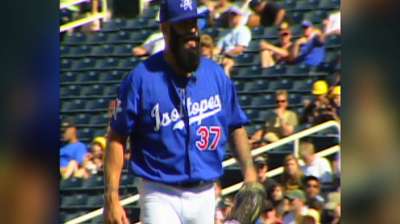 PHILADELPHIA -- Rehabbing reliever Brian Wilson's activation is likely to be on Monday or Tuesday, when the Dodgers are in Miami, general manager Ned Colletti said Sunday on MLB Network Radio.
"It's coming," manager Don Mattingly said. "Not much longer. It's still fluid. By the end of [Sunday], we'll have a better idea."
After strong outings by Zack Greinke and Clayton Kershaw in the first two games of the series with the Phillies, the Dodgers' bullpen is rested. Meanwhile, Wilson needed a few days to freshen up his surgically-repaired right arm after Friday's simulated game.
Along with wanting Wilson fresh when he is activated, the Dodgers haven't been in a hurry. The current bullpen has been lights-out, and Wilson's return necessitates a difficult roster move to make room for him. The likely move is optioning either Chris Withrow or Scott Van Slyke.
Wilson, who made four scoreless appearances while on a Minor League rehab assignment, will give the Dodgers three former All-Star closers to support current closer Kenley Jansen.
Wilson hasn't pitched in the Major Leagues since April 2012, when he underwent Tommy John elbow surgery. He was non-tendered by the Giants last winter.
The Dodgers signed Wilson to join Ronald Belisario and Paco Rodriguez to pitch the seventh and eighth innings. Also in the bullpen is another pair of former All-Star closers -- Brandon League and Carlos Marmol -- along with J.P. Howell and Withrow.
Ken Gurnick is a reporter for MLB.com. This story was not subject to the approval of Major League Baseball or its clubs.