Happ, Cobb meet in person at field that links them
Happ, Cobb meet in person at field that links them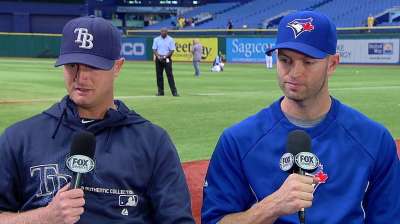 ST. PETERSBURG -- Until a few months ago, J.A. Happ and Alex Cobb did not know each other. Then both pitchers were felled by frightening line drives on the same field -- Happ by one off the bat of Tampa Bay's Desmond Jennings on May 7, and Cobb with another off the bat of Kansas City's Eric Hosmer on June 15.
Now, Cobb said Sunday, "there is definitely a bond that has formed between us."
"We're going to be linked with this, probably forever," Happ agreed.
Before Sunday's game between Happ's Blue Jays and Cobb's Rays, the pitchers met for a few minutes in front of the Rays' dugout on that same Tropicana Field where they were struck down and carried off on stretchers earlier this season. It marked the first time the two met face to face since their alarmingly similar, near-tragic accidents.
"I saw the actual play [on TV] when it happened to Alex," Happ said. "It was kind of surreal."
Both pitchers won their first starts here since returning from their injuries. Cobb beat the Mariners, 7-1, on Thursday in his first big league game in two months. Happ bested the Rays, 6-2, on Saturday night for his first win since April 12 and third big league game following a three-month recovery period.
"It's nice to see we're both back at it," Happ said.
"Not too many people know what we went through," Cobb said. "It gives me peace of mind, seeing him back on the mound and doing well."
Each pitcher said he would like to see some sort of protective headgear developed for pitchers.
"Whether a pitcher wants to pitch in headgear or not should be up to him, but it definitely should be an option," Cobb said.
"I think, if it was available, if it was functional and comfortable and didn't hinder performance, I'd definitely be for it," Happ said.
"It's part of the inherent risk that everybody takes going out to play," the Blue Jays' left-hander added. "But I hope it is an option that becomes available."
Jim Hawkins is a contributor to MLB.com. This story was not subject to the approval of Major League Baseball or its clubs.