Stanton working to find hitting groove
Stanton working to find hitting groove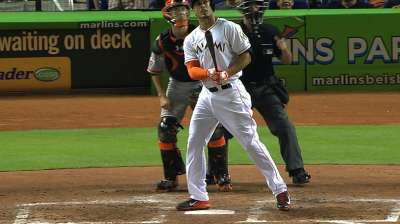 MIAMI -- One thunderous home run doesn't fix an entire season, but it's a start. At least Giancarlo Stanton is hopeful it is a sign his at-bats are turning in the right direction.
Stanton crushed a two-run homer off Matt Cain on Saturday in the Marlins' 6-4 loss to the Giants at Marlins Park. The blast was his first since July 28 against Pittsburgh, a span of 59 at-bats.
"It's not going to come overnight, when you're that far out of whack," Stanton said. "It's a process. I don't have too long, but I have a few weeks to turn it around."
Miami's main power threat, Stanton has labored through his roughest big league season. The slugger is batting .238 with 14 home runs and 37 RBIs. In the 17 games he played from July 28 to Saturday, Stanton hit at a .175 clip (11-for-63) with three doubles, two homers, five RBIs and 21 strikeouts.
Stanton's focus in the final six weeks is to make as much progress as possible. The slugger is working with interim hitting coach John Pierson on a number of different drills, just to try new ideas. His objective is to generate more backspin, which he certainly showed when he blistered his two-run shot Saturday.
"It's a little better," he said. "I'm getting more backspin, my normal backspin, like I should have. Before I was topspinning things and cutting my swing off. That's the main focus now, just to backspin the ball."
With Pierson, Stanton is working on basically staying back and letting the pitch arrive rather than getting too antsy trying to reach for it.
"We're doing some different drills, just switching it up," Stanton said.
Stanton is one of the strongest players in the league, and he's the most feared presence in the lineup. He's also tended to put too much pressure on himself in hopes of carrying a young team.
Gradually, the Marlins are starting to see strides being made in batting practice as well as in the game, where he's had some sharply hit balls the past few games, even if some have been outs.
"His batting practices have gotten a whole lot better," manager Mike Redmond said. "It looks like his approach has gotten better, and I think he's getting there. It looks like he's more confident and his swing is getting better."
Joe Frisaro is a reporter for MLB.com. He writes a blog, called The Fish Pond. Follow him on Twitter Share This