Redmond's strong start unrewarded vs. Rays
Redmond's strong start unrewarded vs. Rays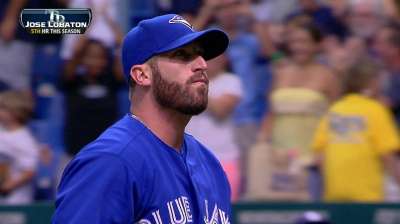 ST. PETERSBURG -- Edwin Encarnacion belted one home run and just missed another by a couple of inches, but that was not quite enough as the Tampa Bay Rays topped the Blue Jays, 2-1, on Sunday on the strength of Jose Lobaton's walk-off home run in the 10th inning.
Presented with an opportunity to finally win a series against the Rays at Tropicana Field for the first time since April 2007, the Blue Jays instead wasted a strong pitching performance by Todd Redmond and fell to 16-45 in their last 61 games at The Trop.
The Blue Jays were at a loss to explain why they have had so much trouble when they visit the Rays.
"This game is crazy sometimes," Encarnacion said. "They want to win, but we want to win, too."
Redmond, a St. Petersburg native making his hometown debut in front of more than 50 family members and friends in attendance, held the Rays to one run on four hits over the first six innings.
But his outing ended after he allowed back-to-back singles to James Loney and Yunel Escobar to begin the seventh.
Sean Rodriguez, running for Loney, was caught in a rundown off third base when pinch-hitter Jason Bourgeois whiffed on an attempted squeeze bunt, and reliever Brett Cecil pitched out of the jam.
"He stepped up; he really did," Blue Jays manager John Gibbons said in praise of Redmond, the 28-year-old right-hander. "He didn't give up much. He never does. We wasted another great pitching outing. Our offense just couldn't get it done." And the Blue Jays certainly had their chances.
"You've got to win these games," Gibbons said. "We've had so many of these games over the year."
"It was very satisfying, with all my friends and family here," Redmond said. "You couldn't ask for any more. I know it's not the World Series, but it's nice pitching at home."
Growing up in St. Petersburg, the 28-year-old Redmond, who was recalled from Triple-A Buffalo last Tuesday, was often in the stands at Tropicana Field, where his parents had Rays season tickets. He brought baseball cards to the ballpark to get autographs and collected every piece of memorabilia he could get his hands on, including broken bats and lineup cards.
He still has them stashed away. Among his prized possessions are bats that belonged to Darryl Strawberry, Jose Canseco and Fred McGriff.
"I was just a baseball fan," Remond said before Sunday's game. "It was, 'Let's go watch a game, get some autographs.' I was one of those little annoying kids that would ask for autographs all the time. I got a few good ones here and there.
"You appreciate the kids now that come up and ask, because I was that kid," he added.
Tampa Bay starter Chris Archer held Toronto hitless until Anthony Gose singled to right to lead off the fourth inning. Archer then retired the next 11 batters he faced before Encarnacion launched his 31st home run of the season, only the second hit Archer had allowed, into the left-field seats to tie the score at 1.
With two outs in the ninth, Encarnacion doubled off the top of the low wall down the left-field line, missing a go-ahead homer by a couple of inches. Gibbons briefly argued but without success. "I made a good swing; I didn't see where the ball hit," said Encarnacion, who is on pace to hit 41 home runs, which would be one shy of his career high.
Evan Longoria homered off Redmond with two outs in the first. The play was reviewed because a fan seated in the first row in right field appeared to reach over the railing and snatch the ball as Jose Bautista tried to make a leaping catch. But the umpires upheld the home run.
"The umpires said the ball cleared the fence, and some guy caught it after it was over," Gibbons said.
"One bad pitch," Redmond said.
Asked why he has suddenly found success in the big leagues, Redmond, who was drafted by the Pirates in 2004, traded to the Braves and later to the Reds, where he made his Major League debut in 2012 before eventually being claimed by the Blue Jays in March, said he was not doing anything different.
"Nothing, absolutely nothing," said Redmond, who has allowed just one run over 11.1 innings in his last two starts and has a 3.28 ERA over seven starts this season. "I've got a chance, an opportunity, and I'm trying to take advantage of it. I'm just trying to throw strikes, to make pitches. I couldn't be happier. It's a great organization."
Jim Hawkins is a contributor to MLB.com. This story was not subject to the approval of Major League Baseball or its clubs.