Scott battling unpredictable injury
Scott battling unpredictable injury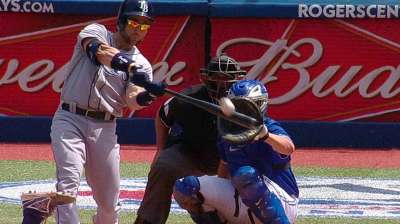 ST. PETERSBURG -- Rays designated hitter Luke Scott has dealt with back spasms before and knows the unpredictable nature of the injury that landed him on the disabled list Saturday.
"I've had them last for two days, and it's back to normal, but I've also had it last for 15 days," Scott said.
Saturday, he was able to work out on an elliptical trainer. Sunday was not so kind.
"I don't know if I slept wrong on it, but it was not cooperating this morning," Scott said. "Today has not been a good day."
Scott will continue to be patient with the rehabilitation process.
"All you can do is wait and listen to your body," he said. "I'll continue to heat it up and rest."
The Rays used Wil Myers as their DH on Friday and Saturday. Kelly Johnson got the start there Sunday.
Sam Strong is an associate reporter for MLB.com. This story was not subject to the approval of Major League Baseball or its clubs.