Pedroia's status for series finale never in doubt
Pedroia's status for series finale never in doubt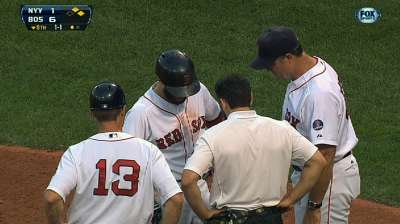 BOSTON -- In the end, there was only one place Dustin Pedroia was going to be on Sunday night, with the Yankees in town and a national audience watching on ESPN: In the lineup, batting third, playing second base.
"Oh, if his name wasn't in the lineup, I guarantee he'd be in my office," said manager John Farrell.
A day after taking a foul ball to the left shin, just above the foot that's given Pedroia problems in the past, Pedroia had no doubt he'd be playing.
"He's earned the right to speak his mind, and we trust what he says with how he feels or what he's feeling at the plate or any area of his game," Farrell said. "Honestly, coming in here today, this wasn't even a second thought in my mind that he wouldn't be in the lineup."
Including Sunday night, Pedroia has played in 125 of the team's 126 games this season, batting exclusively out of the No. 3 spot. With power numbers down for the second baseman this season, the Red Sox rank last in the Majors with eight home runs out of the three-spot, and 25th in the Majors with a .396 slugging percentage.
But what Pedroia has offered is his consistent ability to put the ball in play and put the pressure on the defense. Only the San Francisco Giants have fewer strikeouts out of their No. 3 spot than the Red Sox do. And Boston's .368 OBP out of the position is seventh in the Majors.
Pedroia may not be the prototypical No. 3 hitter, but it's worked out well for the best offense in baseball.
"When our top three guys are getting on base, we've got so much more ability to be active on the basepaths," Farrell said. "When [Shane] Victorino is doing what he's capable of in the two-hole, I think it just gives us the ability to have our on-base guys at the top of the order. There's an argument to be made that [Daniel] Nava could be one of those top two or three slots as well, in that two- or three-hole. I think there's a lot of value in being consistent every day, where guys walk in and know where they're going to be in the lineup."
Jason Mastrodonato is a reporter for MLB.com. Follow him on Twitter @jmastrodonato. This story was not subject to the approval of Major League Baseball or its clubs.