A-Rod takes center stage as Yanks top Sox
A-Rod takes center stage as Yanks top Sox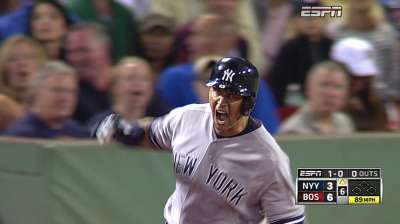 BOSTON -- Alex Rodriguez stomped on home plate, pointed his index fingers to the evening sky and let the boos wash over him for a few extra moments. The Yankees slugger had returned fire against Ryan Dempster and the Red Sox, making no effort to hide his obvious satisfaction with the moment.
On a night that began with Rodriguez's left elbow absorbing a blow from a 92-mph fastball, Rodriguez exacted revenge by crushing a deep home run to center field off Dempster. The blast sparked a four-run sixth inning, leading the Yankees to a 9-6 victory at Fenway Park on Sunday.
"Whether you like me or hate me, that was wrong," Rodriguez said. "It was unprofessional and silly. Kind of a silly way to get somebody hurt on your team as well. Today kind of brought us together."
Both benches were warned by home-plate umpire Brian O'Nora after Dempster's fourth pitch to Rodriguez, prompting the ejection of Yankees manager Joe Girardi, who vehemently argued the ruling -- upset both because O'Nora hadn't warned Dempster earlier, and because Dempster was permitted to remain in the game.
"You can't start throwing at people," Girardi said. "Lives are changed by getting hit by pitches. Whether I agree with everything that's going on, you do not throw at people and you don't take the law into your own hands. You don't do that. We're going to skip the judicial system? It's 'My Cousin Vinny.'"
Dempster said that he had been trying to throw inside to Rodriguez, a claim that was also supported by Red Sox manager John Farrell.
"I'm more disappointed in the fact that I couldn't hold a 6-3 lead. That's the bigger story," Dempster said. "You've got the game right there in hand to win, and I didn't do a very good job of making pitches in the sixth inning. Got to execute better."
"Everyone is going to have their own view of the situation," Farrell said. "Obviously, Brian O'Nora felt there was intent to immediately warn as well. I'll go back and I'll stand by it. He was trying to establish his fastball in and I didn't think he hit him on purpose."
Boston clubbed Yankees starter CC Sabathia for six runs in 5 1/3 innings, carrying a 6-3 lead to the sixth inning, where the Yankees batted around.
Rodriguez started the damage with his tape-measure blast off Dempster, the 649th home run of his career and his second since coming off the disabled list earlier this month.
"Every single one of my teammates came up to me and said, 'Hit a bomb and walk it off,'" Rodriguez said. "They were as [ticked] as I was. ... It was awesome. I was pretty excited. It was the ultimate payback."
Girardi said that he will watch closely, expecting a suspension of Dempster, and worries that if Dempster is not punished, teams around the league will begin acting as though it is open season on Rodriguez.
"You can't allow it to happen," Girardi said. "People have talked about, you don't allow people just to be thrown at because you don't like them or you disagree with something. You can't do that."
After Rodriguez's homer, two singles and a walk loaded the bases with one out, knocking Dempster out, and Brett Gardner greeted reliever Drake Britton with a three-run triple to deep right-center field to give the Yankees the lead.
Gardner had appeared to be among those most incensed by the earlier hit-by-pitch of Rodriguez, as second baseman Robinson Cano held him back from joining the fracas on the field.
Now, he had reason to clap his hands and celebrate wildly, sliding head first into third base.
"How could it not get you fired up?" Gardner said. "We know that we're at a point in the season where we've got to play every game like it's our last, and we were able to win the series."
The late rallies helped cover for an ineffective outing from Sabathia, whom the Yankees are counting on to fuel their postseason hopes. Sabathia allowed seven hits and five walks (one intentional) in the win, including Will Middlebrooks' solo homer in the fourth inning.
"I felt pretty good; throwing the ball pretty well, and I felt good," Sabathia said. "I just got behind some guys and wasn't able to make pitches, but I'm glad we got the win."
Dempster was charged with seven runs and nine hits in 5 1/3 innings, though he was still applauded by the Fenway crowd as he came off the mound.
"I think Alex did the best retaliation by going deep," Sabathia said. "There's not much more to say about that. A guy drills you and then you go deep off him, we get the win, he gives up seven. What can you say?"
Mark Reynolds delivered a pinch-hit RBI single off Franklin Morales in the seventh, giving the Yankees a two-run cushion.
Chris Stewart capped the Yankees' scoring with an RBI single in the ninth, and Mariano Rivera pitched a scoreless bottom of the inning for his 36th save of the season.
Rodriguez finished his night with three hits, two RBIs and two runs scored.
"Look, my only focus is to play baseball the right way," Rodriguez said. "That was silly and unprofessional, and my teammates reacted. I think Joe's reaction was incredible. Hopefully we can take this and build some momentum for the rest of the year."
Bryan Hoch is a reporter for MLB.com. Follow him on Twitter @bryanhoch and read his MLBlog, Bombers Beat. This story was not subject to the approval of Major League Baseball or its clubs.