Teheran guts out six scoreless innings, tops Nats
Teheran guts out six scoreless innings, tops Nats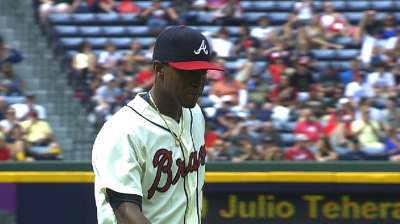 ATLANTA -- When Braves manager Fredi Gonzalez constructed what was certainly an interesting lineup on Sunday, his primary intention was to give many of his regulars a chance to rest coming off Saturday's 15-inning loss. Or maybe, he simply knew Julio Teheran would not need much offensive support.
Teheran escaped a few potentially damaging situations, and the Braves constructed yet another productive first inning against Gio Gonzalez on the way to claiming a 2-1 win over the Nationals at Turner Field.
"It was just fun," Braves backup catcher Gerald Laird said. "It's good baseball when you can give your starters a day off like this and go out and win a ballgame."
While winning five of six against the second-place Nationals over the past two weeks and 12 of the first 16 games in this season series, the Braves have gained a 15 1/2-game lead and all but erased any intrigue surrounding the National League East race. Their primary focus is to secure postseason home-field advantage by maintaining the NL-best record they have gained while winning 19 of their past 22 games.
"This is what baseball is all about," Laird said. "It's late August and we've gone on a run. Obviously, they're disappointed. They need to sweep series now. We won the series and extended the lead. It's fun. That's what baseball is all about. It's what you prepare for in the offseason."
These division rivals entered this series finale having to deal with the consequences of the previous day's marathon affair that extended into Sunday morning's wee hours. Both clubs lost their starting pitchers during Saturday's second inning. Stephen Strasburg was ejected after throwing two fastballs behind Andrelton Simmons, and Mike Minor's lack of command sent him to the showers after he had recorded just five outs.
This put added pressure on Teheran and Gio Gonzalez. Fortunately for the Braves, their 22-year-old rookie managed to complete six scoreless innings despite allowing the Nationals to put two on with none out in each of the first three innings. Teheran ended up stranding nine runners against this Washington club that has batted .159 with runners in scoring position against Atlanta this year.
"I know every time I get into trouble like that, I can just get out of it," said Teheran, who has allowed fewer than two runs in five of his past six starts. "That's the confidence that I have."
Teheran pitched around Bryce Harper's two-out fifth-inning double and then took advantage of the situation after allowing Chad Tracy's two-out double in the sixth. He responded by intentionally walking Kurt Suzuki with Gonzalez on deck.
Instead of dipping into their bullpen, which had worked 14 innings Saturday, the Nationals stuck with Gonzalez, who struck out to end the threat and Teheran's 105-pitch outing.
"[Teheran] didn't have his best stuff today," Laird said. "He was struggling with the changeup and he didn't have that slider. But he kept making pitches when he needed to."
Gonzalez was given the benefit of facing a starting lineup that did not include Jason Heyward, Justin Upton, Brian McCann or Simmons, who were all given a chance to rest during the early innings. But this did not prevent the veteran left-hander from allowing multiple runs in the first inning for the third time in five starts against the Braves this year.
B.J. Upton drew a walk to begin Atlanta's two-run first inning and second baseman Philip Gosselin, who was making his first big league start, followed by recording his first big league hit with a bunt single that came courtesy of a well-placed sacrifice attempt. This set the stage for Freddie Freeman and Chris Johnson to produce RBI singles that accounted for the only runs Gonzalez allowed in his 120-pitch, seven-inning effort.
"I was pretty fired up when I saw my name in the lineup and I just wanted to try to do something to help us get the win," said Gosselin, who also laced a third-inning single to center after his teammates ribbed him about recording his first hit with a bunt.
Left-handed reliever Scott Downs allowed the Nationals to put two on with one out in the seventh inning. This prompted the entry of David Carpenter, who surrendered Jayson Werth's RBI single before striking out Adam LaRoche on the front end of a double play that included Laird throwing out Werth trying to steal second base.
The Braves' bullpen entered this weekend having worked 32 scoreless innings against the Nationals this year. This rock-solid relief corps allowed at least one run in each game played during this series, which was fueled by the controversy that developed after Harper was hit with two pitches on Friday night.
Harper was also hit by Teheran after watching a home run for a little too long in Washington on Aug. 6. There were no other incidents after Strasburg dotted Justin Upton's rear and then threw behind Simmons on Saturday.
But the fans who passionately booed Harper throughout this weekend took delight when this series concluded with Craig Kimbrel striking out the Nationals' gifted 20-year-old outfielder on a disputed check-swing call made by third-base umpire Marvin Hudson.
"I love these fans, I really do," Harper said. "These people are absolutely unbelievable for their team. If I was playing for a team like this and a crowd like that, I'd be stoked to play every night, too."
Mark Bowman is a reporter for MLB.com. This story was not subject to the approval of Major League Baseball or its clubs.