Napoli day to day, Papi to play first in San Francisco
Napoli day to day, Papi to play first in San Francisco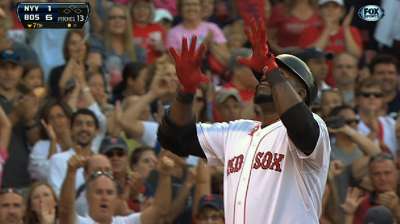 BOSTON -- David Ortiz hasn't made an error in four years.
Granted, he's only played the field in 14 games since 2009, when he made his last error, one of 21 in his career, but the 37-year-old has been perfect over his last 97 innings at first base.
With the upcoming West Coast road trip against the Giants and Dodgers leaving the Red Sox without the designated hitter, Ortiz will head back to first. He'll play at least two of the three games against the Giants, though the plan for the Dodgers' series has yet to be formulated.
That will leave Mike Napoli without a spot in the lineup, but he's battling a sore left foot that has caused him to miss the last two days. Napoli is day to day and will be reevaluated before the next series begins.
"We'll get through that [Giants] series first before we look to address the Dodgers series, but we've got three right-handed starters going against us in San Francisco, so matchups will be a part of it," manager John Farrell said.
Mike Carp provides another left-handed option at first base and could earn a start, assuming Ortiz gets a day off in the Giants' series. The switch-hitting Daniel Nava is also an option.
Nava spent much of Spring Training working out at first base to further his versatility, which has proven useful at times. Nava was in the lineup playing first for Sunday's game against the Yankees and left-handed starter CC Sabathia.
"He provides a lot of in-game flexibility as well, if we have a pinch-hit situation with either Mike Carp or Jonny [Gomes], we can shift him back to outfield from first base," Farrell said. "So when we approached the first base thing in Spring Training, I had no idea it would be this flexible and this much of an advantage for us, but it's turned out really well."
Jason Mastrodonato is a reporter for MLB.com. Follow him on Twitter @jmastrodonato. This story was not subject to the approval of Major League Baseball or its clubs.