Gio solid, but struggles with RISP doom Nats
Gio solid, but struggles with RISP doom Nats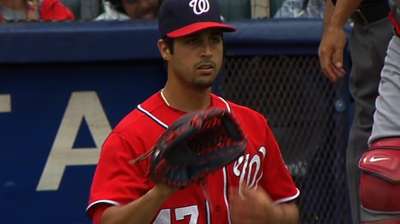 ATLANTA -- There wasn't any drama between the Nationals and Braves on Sunday afternoon at Turner Field. However, keeping the peace didn't help the Nationals as they were edged by the Braves, 2-1.
Atlanta took two out of three games this weekend, while Washington finds itself 9 1/2 games behind the Reds for the second and final National League Wild Card spot.
Sunday's game was nothing like the previous two nights. Oh, sure, right-hander Julio Teheran hit Anthony Rendon with a pitch in the third inning, but the umpires didn't issue any warnings.
More than anything, the Nationals needed left-hander Gio Gonzalez to go deep in the game, because they used their entire bullpen during their 15-inning victory Saturday night. Gonzalez did a good job keeping the bullpen rested. He pitched seven innings, allowed two runs on five hits and struck out nine batters.
"It's a great feeling to give your team a chance to recover," Gonzalez said. "The best part about it is we kept fighting during the 15-inning game, and to [use only one reliever on Sunday] is a big thing for us. It gets us going for the next series [against the Cubs]."
Gonzalez's only bad inning was the first. B.J. Upton scored the first run of the game after Freddie Freeman singled to center field. Two batters later, Chris Johnson singled to right field, scoring Philip Gosselin to make it a two-run game.
Gonzalez said his biggest mistake was walking Upton to start the inning.
"The first walk -- that changed the game," Gonzalez said. "After that, it was them playing small ball."
Gonzalez then blanked Atlanta for the next six innings. After the first inning, he allowed just two hits.
The Nationals had problems scoring against Teheran, who pitched six shutout innings. The Nationals had him on the ropes during the first three innings. They had runners on first and second with no outs in those innings and didn't touch home plate.
"It's getting to be kind of sad," Nationals manager Davey Johnson said. "We set the table and we don't have good at-bats, we don't drive them in."
Washington went 1-for-13 with runners in scoring position.
"We didn't do anything to take advantage of that, myself included," Bryce Harper said. "I didn't have a very good first [at-bat]. It shot us in the foot. ... If you have guys on base, you really have to do something to help your team, myself included."
Asked why the team is having problems with runners in scoring positions, Johnson said, "Sometimes as a group, we are not aggressive early in the count for good pitches in the strike zone.
"And some of the young hitters go out of the strike zone and chase. It's just maturity. Some of the young guys need to mature as hitters in those situations."
Center fielder Denard Span said the hitters have to realize that the opposing pitcher is in trouble.
"Some of us, like myself, are putting too much pressure on ourselves when guys are in scoring position," Span said. "I think we have to remind ourselves … that the pitcher is on the hook. He is the one that has his back to the wall. Sometimes we get a little overaggressive and get away from our plans."
That one hit with runners in scoring position came with Teheran out of the game. With runners on first and second, one out and right-hander David Carpenter on the mound in the seventh inning, Jayson Werth singled to right field, scoring Rendon. But the threat soon ended after Adam LaRoche struck out and Werth was caught stealing second base.
"I'm trying to get the winning run on second and trying to stay out of the double play," Johnson said. "That's part of my frustration, too -- not getting them in when we have them [on base]. They guys that are coming up to the plate are the guys that we want."
The frustration of not getting the job done eventually got to the Nationals in the ninth inning. With a 1-2 count, Braves closer Craig Kimbrel threw a pitch and it appeared Harper checked his swing, but third-base umpire Marvin Hudson ruled that he swung, ending the game.
Harper was clearly upset and was arguing with the umpire until Werth told Harper to walk away.
"The home-plate umpire [Wally Bell] said no three times. He doesn't want to check," Harper said. "They obviously check and they bang me. That's one less pitch I see against [Kimbrel]. He is a great closer. Trying to see as many pitches [as I can] is huge."
Bill Ladson is a reporter for MLB.com and writes an MLBlog, All Nats All the time. He also could be found on Twitter @WashinNats. This story was not subject to the approval of Major League Baseball or its clubs.