Dempster can't hold off Yanks on eventful night
Dempster can't hold off Yanks on eventful night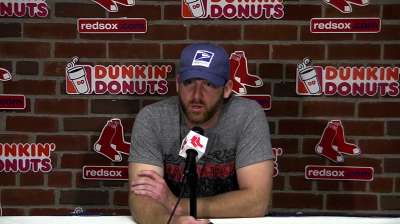 BOSTON -- "Here we go," were the words spoken by FOX play-by-play announcer Joe Buck during a broadcast of a late-July game between the Yankees and Red Sox in 2004. Paired with the events that followed, his words may have sounded more like ringing bells at the start of a boxing match.
Buck's voice had an echo at Fenway Park on Sunday night, when the Yankees rallied to beat the Red Sox, 9-6, in an emotional game between baseball's biggest rivals.
What Buck was describing in 2004 was the beginnings of an incident that started with Alex Rodriguez getting plunked by Bronson Arroyo. Rodriguez then began scuffling with Jason Varitek, both teams scrapped on the field and some players were left bloodied.
In a similar setting, A-Rod's presence sparked another scene on Sunday.
The Yankees third baseman, who is playing under appeal of a 211-game suspension, was plunked on the fourth pitch of his first at-bat against Red Sox starter Ryan Dempster -- who had thrown the three previous pitches inside.
"No," Dempster said when asked if he hit A-Rod on purpose. "I was trying to pitch him inside."
Rodriguez naturally disagreed, saying, "Whether you like me or hate me, that was wrong. It was unprofessional and silly."
Joe Girardi could not have come faster out of his dugout to begin arguing with home-plate umpire Brian O'Nora. O'Nora warned both teams before Girardi could reach him. Then the Yankees manager let the umpire have it for not ejecting Dempster. Girardi, who also yelled at Dempster, was quickly ejected. Each team's benches and bullpens cleared.
"He threw the first ball behind him, intentional," Girardi said. "He threw the next one inside, he didn't hit him, intentional. At some point, Brian O'Nora has got to give him a warning. And he should've thrown him out of the game is the bottom line. Everyone knows it was intentional, and I don't understand why he's left in the game and then to give us a warning?
"I'll be really disappointed if he's not suspended where he misses a start. They have a lot of days off and you could finagle something, like if he took the suspension tomorrow, if he got suspended, he wouldn't miss a start. It has to cost him something."
Red Sox manager John Farrell said he understands where Girardi is coming from, but the team had planned on pitching A-Rod inside from the get-go.
"I don't know that [Dempster] hit him on purpose," Farrell said. "I don't think he did."
For the entirety of the game, tension was never thin.
With the possibility of retaliation looming in the form of a hit batsman, the Yankees instead found redemption at the plate.
Boston took a 6-3 lead into the sixth inning after the Red Sox got out in front against Yankees lefty CC Sabathia, who is posting career-worst numbers across the board this season.
Dempster had appeared equally as lost on the mound, having allowed at least one baserunner in four of his first five innings. It wasn't too different from the majority of Dempster's recent outings, though he has pitched well enough for the Red Sox to win 14 of his 25 starts.
But A-Rod, who entered the game 2-for-2 lifetime off Dempster, was leading off the top of the sixth. Dempster tried to stay down in the zone, but Rodriguez took the pitch deep over the center-field wall for his second homer of the season.
Rodriguez, who later described the feeling as "the ultimate payback," circled the basepaths before stomping both his feet at home plate and pointing up to the sky. He high-fived bench coach and acting manager Tony Pena hard enough to hear the hands clap from the press box.
"I'm sure any time any hitter gets hit by a pitch, when you hit a home run the next time up, it always probably feels good," Dempster said. "That's just reality."
Most importantly, A-Rod ignited a Yankees comeback.
Eduardo Nunez, Lyle Overbay and Chris Stewart each reached base following the homer and Dempster was removed for left-hander Drake Britton, a 22-year-old rookie with power pitches and confidence to boot. Britton's first pitch was a challenge fastball over the plate to Brett Gardner. Britton's second pitch, a hanging slider, was crushed to right-center for a three-run triple that gave the Yankees a 7-6 lead.
Dempster had hit a wall, Farrell said. And Britton said he couldn't get enough on his slider to get it out of the strike zone.
New York tacked on another run in the seventh inning, then capped its output with one in the ninth.
The Yankees entered play Sunday 8 1/2 games back of the Red Sox. They pulled one game closer with a come-from-behind win on an emotional stage.
Rodriguez is getting hot; the rivalry, hotter.
In the words of Joe Buck, "Here we go."
Jason Mastrodonato is a reporter for MLB.com. Follow him on Twitter @jmastrodonato. This story was not subject to the approval of Major League Baseball or its clubs.