White Sox ride Alexei's near-cycle to outrace Twins
White Sox ride Alexei's near-cycle to outrace Twins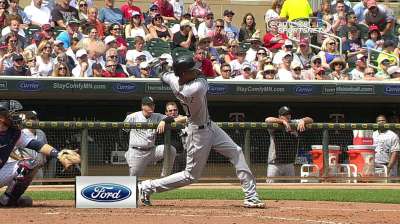 MINNEAPOLIS -- When Alexei Ramirez stepped up to the plate to lead off the fifth, he watched two balls sail by before lifting a solo shot to left field. It was only his third plate appearance on the day and he made each one count, earning his third hit and his third RBI.
Ramirez fell a triple short of the cycle Sunday in powering the White Sox to a 5-2 win over the Twins at Target Field. The win marked the visitors' third straight, the first time they put three victories together consecutively against a divisional opponent all season.
"He likes hitting third, I guess," White Sox manager Robin Ventura said. "He's shown a little bit of power. ... He's come up in some big situations. He's stayed in the middle of the field and started to pull the ball again. He just looks better at the plate."
The shortstop ended the day 3-for-4 with his three RBIs and scored the go-ahead run in the third on Avisail Garcia's double off the right-field wall, to make it 3-1. Ramirez reached earlier in the inning on an RBI double down the left-field line, scoring Alejandro De Aza, who was hit by a pitch to lead off the inning.
Two innings later, Ramirez hit his home run to make it 4-2. Jeff Keppinger followed two outs later with an RBI single, scoring Garcia, for a 5-2 lead.
With Ramirez leading the offensive surge, left-hander Hector Santiago limited the Twins to a pair of runs (one earned) over six innings. He allowed nine hits and two walks with only one strikeout, but was able to work out of a few jams, including the fifth inning, when he loaded the bases with one out, but was able to retire the next two batters.
"The whole game I don't think I looked back and let anything go until that situation right there," Santiago said of his fifth-inning escape act. "I was trying to make pitches and get by with just making pitches instead of trying roll people away. Right there, I mean they're hitting good pitches, so let's see what they can do, throw it down the middle and let them hit it. ... I got some pitches that had some movement and ran into some guys, got two soft fly balls to get out of it."
Santiago -- who pitched his last outing with an infected tooth and swollen face after a root canal -- left the game after throwing 117 pitches.
"I felt like I was having a root canal during most of it," Ventura joked. "That's just kind of the way he pitches. Over the course of the season, he finds a way to get into a little bit of trouble and then get out of it. It's a good thing to have. … He used all his pitches today. I think getting him up there, in a high pitch count, he was able to get through it with that."
Trailing 3-1 in the third, the Twins' Brian Dozier led off with a double. Josh Willingham followed two batters later with a double to center field, driving in Dozier from second for a 3-2 score.
Willingham attempted to score from third and knot things at 3 on a wild pitch, but Santiago covered the bag in time for catcher Josh Phelgey's throw, and tagged Willingham out at the plate.
An inning earlier, the Twins evened things at 1. Plouffe led off the inning with a double to left. He took third on the play when Dayan Viciedo missed the cutoff at second and was charged with the first of three White Sox errors. Plouffe scored on an Oswaldo Arcia grounder to second in the next at-bat.
The Twins put together a meager 2-for-18 with runners in scoring position in the loss.
"The key to everything is hitting with runners in scoring, and we've been struggling offensively a little bit with that," Dozier said. "But it's not a mentality thing. You just have to bear down a little more and hopefully pitchers make mistakes. But it's something we definitely need to be better at."
The White Sox jumped on the Twins early, taking a 1-0 lead after the first frame. Twins starter Sam Deduno pegged Gordon Beckham with a pitch, and Beckham took second on a balk and scored as Ramirez earned his first hit and RBI of the day on a single up the middle.
Deduno hit three batters through his five-inning outing Sunday. He allowed five runs on eight hits, including a home run, and struck out three.
"I'm feeling fine, but I just didn't locate the fastball," Deduno said. "I left a lot of balls up in the zone. I wasn't aggressive with anything."
As closer Addison Reed pitched the ninth for his 31st save and third in three days, he also ensured Santiago of his first win since June 21 at Kansas City. While Santiago wasn't entirely happy with the outing, admitting that his teammates were more excited about the mark than he was, the team got a win and that's what's important, according to Santiago.
Kelly Erickson is an associate reporter for MLB.com. This story was not subject to the approval of Major League Baseball or its clubs.