Offense unable to pick up struggling Deduno
Offense unable to pick up struggling Deduno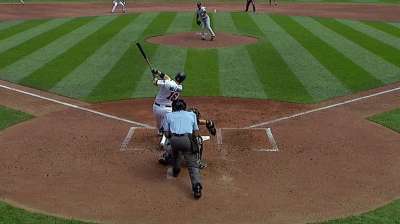 MINNEAPOLIS -- When Samuel Deduno is on his game, his curveball is his go-to pitch to put away hitters.
But his breaking ball wasn't there again on Sunday against the White Sox, and it's left Twins manager Ron Gardenhire wondering if Deduno is starting to feel tired in these later stages of the season.
Deduno, however, denied that he's feeling worn down, but continued his recent struggles, and the Twins went 2-for-18 with runners in scoring position in a 5-2 loss at Target Field.
"You saw it today -- I don't know how many times he kind of spun it up there and it didn't finish and they whacked it pretty good," Gardenhire said. "It's getting to a certain point and just hanging there right now. And when his arm speed is good, it's snapping pretty good. He hit three people and was losing control of the zone. So whether he's overthrowing or tired, I don't know."
It was the third straight shaky start for Deduno, who had a 3.17 ERA through his first 13 starts this season. The right-hander gave up five runs on eight hits and three hit batsmen over five innings with three strikeouts. He has a 7.02 ERA over his last three starts to see his ERA for the season rise to 3.82.
Deduno was asked three different times after the game if he's starting to feel tired -- he's thrown 115 2/3 innings combined between Triple-A Rochester and the Twins this season after missing April because of a groin injury sustained in the championship game of the World Baseball Classic -- but the answer each time was no.
"I'm feeling fine, but I just didn't locate the fastball," Deduno said. "I left a lot of balls up in the zone. I wasn't aggressive with anything."
He was shaky from the start, plunking Gordon Beckham with a pitch with one out in the first before committing a balk to allow Beckham to reach second base. Alexei Ramirez then brought home Beckham with a single to center field.
Ramirez was at it again in the third after another hit batter by Deduno, as he doubled home Alejandra De Aza, who led off the inning with a hit by pitch. Ramirez later came around to score on a two-out double from Avisail Garcia.
Ramirez wasn't done yet, as he blasted a leadoff homer in the fifth inning for his fourth homer. Garcia doubled again with two outs and scored on a single to left from Jeff Keppinger, who was caught trying to advance to second on the throw home from Josh Willingham.
"He's shown a little bit of power," White Sox manager Robin Ventura said about Ramirez, who went 3-for-4 with three RBIs. "He's come up in some big situations. He's stayed in the middle of the field and started to pull the ball again. He just looks better at the plate."
It was enough offense for White Sox left-hander Hector Santiago, who was able to work out of several jams. He surrendered nine hits and walked two in six innings but gave up just two runs (one earned).
"I felt like I was having a root canal during most of it," Ventura joked about his starter, whose last outing came after a morning dental procedure. "That's just kind of the way he pitches. Over the course of the season he finds a way to get into a little bit of trouble and then get out of it.
The Twins got on the board in the second, when Trevor Plouffe doubled and reached third on a throwing error from left fielder Dayan Viciedo. Oswaldo Arcia then plated Plouffe with a groundout to second base.
Minnesota scored again in the third on an double by Willingham to bring home Brian Dozier, who led off the frame with a double. But Willingham ended the inning by getting thrown out at home by catcher Josh Phegley as he tried to advance on a wild pitch that reached the backstop from Santiago. It was a costly play for the Twins, as Plouffe walked on the pitch and the Twins would've had the bases loaded.
The Twins finally did load the bases with one out in the fifth, but had nothing to show for it. Plouffe popped out to first base before Arcia popped out to third to end the inning.
It's been a familiar theme for the Twins, who lost three straight to the last-place White Sox after taking the series opener on Thursday. Minnesota hit just .154 (6-for-39) with runners in scoring position in the three losses, and has lost five of seven at home.
"It's terrible to be honest with you," Dozier said. "We don't go out there to lose by any means. We're busting our tails working hard to be better every day. But as long as we keep trying to get better and learn from these three games, we'll see what lies ahead."
Rhett Bollinger is a reporter for MLB.com. Read his blog, Bollinger Beat, and follow him on Twitter @RhettBollinger. This story was not subject to the approval of Major League Baseball or its clubs.