Tigers' weakness exposed by speedy Royals
Tigers' weakness exposed by speedy Royals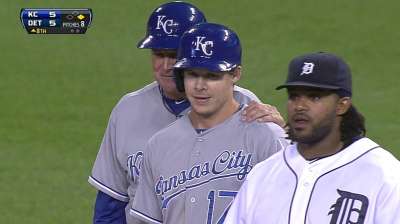 DETROIT -- Tigers manager Jim Leyland raved about the Royals' athleticism all weekend, noting the pressure they can put on teams with their speed.
"Some of them, like [Emilio] Bonifacio, they can just fly," Leyland said.
At the same time, however, Leyland acknowledged that they're exploiting a weakness the Tigers have displayed long before the Royals came to town. Detroit's pitching staff -- a group that has been shutting down hitters for much of the year -- has not done the same with baserunners.
Several reasons are behind that, not the least of which being Alex Avila's absence behind the plate over the past week. What concerns Leyland in particular, though, is the pitchers' predictability on the mound with runners on base. They're making it easy on would-be basestealers to time their moves and make their jumps.
"They're timing our guys' delivery," Leyland said Saturday, "so we have to make sure that we hold the ball, don't hold the ball, hold it a little longer. We have to vary that, because they're going on it."
It's a balancing act for teams, weighing how much focus they want their pitchers to put towards runners on base vs. hitters at the plate. Retire the hitters, the popular thought goes, and the baserunner is going to have a hard time getting all the way around the bases.
The Royals are putting a serious test to that thought. They went 8-for-8 on stolen bases over the first four games of the series, including 2-for-2 in Saturday's eighth inning to set up the game-tying run. Bonifacio went from first base on a leadoff single to third with a stolen base and a throwing error from catcher Bryan Holaday, allowing him to score easily on an ensuing single from Chris Getz.
On the flip side, Jeremy Bonderman's errant pickoff throw Friday night allowed Getz to get from first to third base in the seventh inning and score an insurance run.
The Tigers entered Sunday having surrendered 101 stolen bases this season, third-highest in the American League behind the Red Sox (104) and Angels (102). Only Toronto has a higher stolen-base percentage allowed than Detroit.
Jason Beck is a reporter for MLB.com. Read Beck's Blog and follow him on Twitter @beckjason. Bobby Nightengale is an associate reporter for MLB.com. This story was not subject to the approval of Major League Baseball or its clubs.