Power burst from Davis, Jones helps clinch series
Power burst from Davis, Jones helps clinch series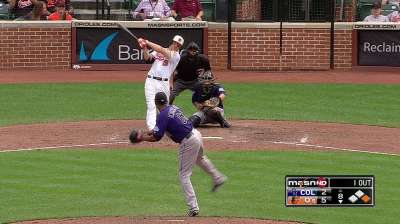 BALTIMORE -- Following Saturday night's losing-streak-snapping win, suddenly surging second baseman Brian Roberts talked about the position the Orioles are in to do some damage in the regular season's final 40 games.
The veteran infielder did his part again Sunday afternoon, reaching base three times and delivering a key two-run seventh-inning single, helping Baltimore clinch a 7-2 series win over Colorado. Roberts, along with the tandem of Chris Davis and Adam Jones -- who each hit a two-run homer and went a combined 7-for-10 -- backed a quality start by right-hander Scott Feldman to help the third-place O's keep pace in the American League postseason race.
"We've been through this before, last year, and especially a lot of people saying it won't happen," manager Buck Showalter said of his club's playoff chances. "This is a group that kind of likes being in that position. I think the last thing I would ever do is underestimate what they're capable of."
The victory kept the Orioles 3 1/2 games back of the AL Wild Card-leading Rays, who come to town on Monday for the start of a slew of divisional matchups in the season's final month and a half.
"Every day you show up to the ballpark and you've got a chance to continue the season and try to play into October," said Feldman, who pitched 6 2/3 solid innings to improve to 3-3 with the O's. "It's fun to watch, see what the other guys are doing that we're chasing right now and kind of root against them a little bit. But at the same time, I think as long as we just take care of our business here, we'll be fine."
The Orioles got on the board first Sunday with a two-out second-inning single from Alexi Casilla, his first RBI since July 6, and Jones pushed the lead to three with his 25th homer in the following frame. Jones, who joined Frank Robinson as the only other outfielder in club history to record at least 25 homers in three seasons, drilled Rockies starter Jhoulys Chacin's 1-0 slider into Baltimore's bullpen to drive in Davis.
"There's not too many guys you can pitch around in this lineup. I definitely think it helps that Adam's swinging the bat well right now, and it's part of it," Davis, who clubbed his Major League-leading 45th homer, said of Jones giving him some added protection.
"Guys get hot at different times during the season. We've done a good job all year being a ballclub of guys who really pick each other up."
The Davis-Jones-Roberts trio combined to add to the O's one-run lead after Chacin exited, with Roberts punching a ball up the middle off reliever Josh Outman to score the pair of sluggers in the seventh. Fresh off his first multi-RBI game at home since April 19, 2011, Roberts -- who has had an injury-riddled past few seasons -- continued to show flashes of his old form at the plate and has hit safely in six of his last seven games.
"We found ourselves a DH now. The problem is he won't be DH'ing tomorrow," Showalter said of Roberts, who has gone 11-for-23 (.478) with two doubles, a triple and six RBIs over that seven-game stretch.
"Sometimes you just trust people and realize there's a lot of game speed he's missed at this level. Kind of trust people and keep running him out there and he'll catch up. He's been a force for us, especially down at the bottom of the order. We need something down there, especially the people who have been hitting behind him."
The O's offense, which scored a season-high seven runs in the third inning on Saturday, put on a solid display against Chacin, who entered the game with a 1.87 road ERA. The Rockies starter allowed more than two earned runs for the first time in 10 starts away from Coors Field.
"We came off actually not as bad a road trip as everybody might have felt toward the last part of it. But this time of year, the games are dwindling," Showalter said. "You've seen our schedule the rest of the way ... I'm not going to place any more importance on this and that. It would have been a tough start to the rest of the season if we weren't able to win the series. I thought Scotty's outing was big for us."
Feldman retired nine of the first 10 he faced and cruised through most of the afternoon before hitting some trouble in the seventh. Todd Helton opened with a double for the Rockies' third hit -- first for extra bases -- off Feldman, and one out later, Charlie Blackmon doubled him in. After Blackmon swiped third, Colorado pulled within one on Yorvit Torrealba's groundout, and Feldman was removed in favor of right-hander Tommy Hunter after DJ LeMahieu's follow-up single.
Hunter got leadoff man Dexter Fowler to fly out to quash the threat and Darren O'Day pitched around a pair of runners in the eighth. Josh Stinson, who was optioned to Triple-A Norfolk after the game, navigated around a scoreless ninth.
"This time of year, you definitely want to win as many series as you can especially when you're at home, but every game's important down the stretch, and everyone in this division always seems to play really well near the end of the season," said Davis, who put the game out of reach in crushing the first pitch he saw from Rockies reliever Edgmer Escalona in the eighth. "So the more wins we get, the better off we'll be."
Brittany Ghiroli is a reporter for MLB.com. Read her blog, Britt's Bird Watch, and follow her on Twitter @britt_ghiroli. This story was not subject to the approval of Major League Baseball or its clubs.