Chance to gain ground lost as KC falls in Detroit
Chance to gain ground lost as KC falls in Detroit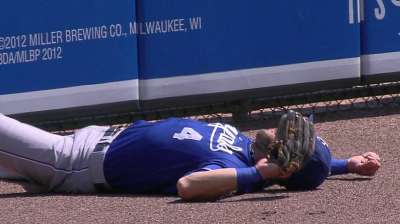 DETROIT -- It was a marvelous series marked by intriguing, grinding, big-moment baseball. It wasn't so good for the Royals, though, in their pursuit of the playoffs.
Unable to conquer Max Scherzer, the Royals took their third loss in the five-game series against the Detroit Tigers, 6-3, with a sellout crowd of 41,740 fans crammed into Comerica Park. The overall impact was ground lost for the Kansas City club.
The Royals arrived 7 1/2 games behind the first-place Tigers in the American League Central. They left trailing by 8 1/2 games. Their gap in the AL Wild Card race went from 4 1/2 games to six.
Even so, manager Ned Yost was not very discouraged, noting the Royals still have a 7-6 edge over the Tigers this season.
"We play them six more times," Yost said. "We've competed with these guys all year long, so call this a measurement series, I don't buy that. We took two out of five, we had a chance to take three out of five. We just couldn't get it done. ... But all in all, it was a really good series."
"These guys are thorns in our side," the Tigers' Torii Hunter said. "They're tough. They play us tough."
Kansas City swept Friday's day-night doubleheader but lost the other three games. The one loss the Royals really lamented came on Saturday night, 6-5, when they were just 4-for-20 with runners in scoring position.
"Every game in the series kind of went to script," the Royals' Billy Butler said. "We had the game [Saturday] night; I had plenty of chances, and as a team, we had chance to win that game and take the series lead, and we never did. That was the only game of the series that I can say we should have had, that we had a good chance of winning and we didn't. ... The series could have gone the other way on that one game. They beat us today."
Yeah, and it started with the same guy who beat them with a walk-off homer on Saturday night: Miguel Cabrera.
On Sunday afternoon, Cabrera belted the first pitch thrown to him by Royals left-hander Bruce Chen for a two-run homer in the first inning.
"When he's on, I don't think you can throw anything around him. You know he'll hit it," Chen said.
The homer was Cabrera's 40th this season and came with Austin Jackson, who'd singled, on base.
"It was just a good fastball. I was a little up and it was away and he shouldn't be pulling it -- but he pulled it," Chen said.
Cabrera inflicted more damage in the third inning. After two outs, Hunter's long drive fell behind a twisting and turning David Lough and bounced into the right-field stands for a ground-rule double. Cabrera lined a single to left, scoring Hunter for a 3-0 lead.
Yost decided against an intentional walk to Cabrera but wanted Chen to avoid giving the Tigers slugger anything he could hit.
"In the third, ideally I'd like to pitch around him," Yost said. "I don't want to throw him any strikes, anything he can hit. We threw him a strike. If that happens, that's my fault."
It wasn't a strike, though, from Chen's perspective.
"It was a cutter, I was trying to get it in and he hit it. If he lets it go, I think it's six or eight inches in ... and he just made it look like I left it out over the middle of the plate, but it wasn't," Chen said.
Cabrera's home run had historic implications. It was the 361st of his career, tying him for 77th on the all-time list with Yankees Hall of Famer Joe DiMaggio.
"I mean, it's stupid what he's able to do at the plate," Scherzer said. "You're getting to watch the greatest in the game right now. We all are. It's something special. For all of us, we enjoy the heck out it, and we're just glad he's on our team."
Chen was chased in the sixth inning, which began with left fielder Alex Gordon crashing into the left-field wall like a ton of bricks as he caught Victor Martinez's drive.
"I just made it look like I did," Gordon said.
Gordon toppled backward to the ground on the warning track but slowly regained his footing, unhurt.
"I was just making sure I had it in my glove and didn't drop it," Gordon said.
Then came Andy Dirks' single and Brayan Pena's RBI double to deep center. Chen was relieved by Louis Coleman, who gave up an RBI single to Ramon Santiago and a Jose Iglesias single before getting a double-play ball.
Scherzer notched his 18th victory, most in the Majors, against a single loss.
The Royals finally scored two runs in the seventh as Butler singled and Gordon and Emilio Bonifacio rapped doubles. But that was all Scherzer allowed in his eight innings.
"He was throwing 90, 91 [mph]," Gordon said. "I'm used to him throwing really hard, and I think it might make him have better control, spotting pitches. And obviously, his changeup is really good. It's not the typical Scherzer that I was seeing, but it's still pretty good."
With Scherzer out of the game, Butler led off the ninth with a home run to left field off reliever Joaquin Benoit. It was Butler's 12th homer.
But that was all the Royals could muster and, after winning seven straight series after the All-Star break, they have lost back-to-back series -- to Miami and now Detroit.
"To be in a five-game set and be able to win the series at home against that team who's hot, that's an important thing for our ballclub," Tigers manager Jim Leyland said. "It's just a testament how good we are as a whole to beat that team three out of five times."
Dick Kaegel is a reporter for MLB.com. This story was not subject to the approval of Major League Baseball or its clubs.