Braves ready to move on after Strasburg's wildness
Braves ready to move on after Strasburg's wildness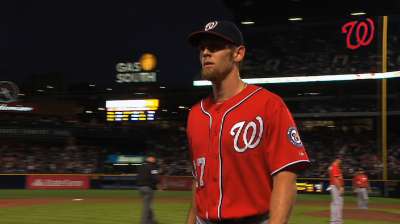 ATLANTA -- The most predictable moment of the Braves' wild 15-inning, 8-7 loss to the Nationals on Saturday night came nearly five hours before the game's conclusion, when Washington starter Stephen Strasburg fired a 97-mph fastball off the hip of Atlanta left fielder Justin Upton in the bottom of the first inning.
Upton flipped his bat end over end, caught it at the barrel and trotted to first with limited fanfare, and television cameras caught Braves right fielder Jason Heyward standing on the top step of the dugout and clapping his hands in Strasburg's direction.
In the teams' previous three meetings, outfielder Bryce Harper had been hit three times by three different Braves pitchers, including twice in Friday night's series opener. Alex Wood hit Harper with an errant curveball to begin Friday's fourth inning, an incident that was shrugged off as accidental by both teams. But in the eighth, reliever Luis Avilan hit Harper with a first-pitch fastball so far inside it hit Harper's left arm as he turned his back to the pitch in self-defense, a gesture that elicited a cynical interpretation from the Nationals' bench.
As both Friday night's walk-off hero and the object of some resentment for a particularly slow home run trot the week before in D.C., Upton was always the prime candidate for any retaliation on Harper's behalf. Strasburg wasted little time obliging him.
"It was whatever," Heyward said of Upton's plunking. "For us, it was like, 'If it happens, big deal. If not, big deal.' We're just playing baseball, competing and having fun. It's a part of the game. You just hope nobody gets hurt."
The events of the second inning appeared to take the Braves by considerably more surprise. After walking Jordan Schafer on four pitches, Strasburg lost control of a curveball in the dirt before throwing two fastballs well behind Andrelton Simmons. After his third consecutive wild pitch to the backstop, Strasburg and Nationals manager Davey Johnson were ejected, and Strasburg walked off the field with little response for home-plate umpire Marvin Hudson.
"None of us really know what was going on," Braves starter Mike Minor said. "It didn't look intentional. He was really erratic. I saw the ones that missed Simmons by like a foot. The reactionary thing was just a little off, he kind of just walked off and just didn't look like he was really there, like control was off or something happened."
"I don't know if there is something else going on there," Braves manager Fredi Gonzalez said. "The umpires have to do what they have to do."
Gonzalez spoke glowingly before the game of Harper, who was scratched from Saturday night's starting lineup due to a bruised left triceps stemming from the second of two pitches he was hit by on Friday night, but he entered as a defensive substitution in the bottom of the ninth and went on to make a pair of extra-inning plate appearances.
"I think the world of Bryce," Gonzalez said. "I hope he plays 20 years the way he played as an 18-year-old, with that kind of enthusiasm and energy. He plays the game the right way. My son's 22, he doesn't play anymore, but if I'm a parent with a young kid, there's not too many guys that I would say, 'Hey, watch this guy play the game.' Bryce Harper's one of them. You gotta emulate the way this guy plays the game."
But just over a week removed from a benches-clearing incident in Washington sparked by Harper's fiery reaction to being plunked by Julio Teheran after hitting a home run in his previous at-bat, Gonzalez and the Braves understood how it looked to have hit the 20-year-old phenom three times, on accident or otherwise. By the time Dan Haren retired Schafer in the bottom of the 15th inning to secure a Nationals victory, the Braves considered the matter yesterday's news, and it quite literally was.
"It was bound to happen almost," Minor said. "Not that we really tried to hit anybody the other day, but it was kind of just -- we thought maybe it was going to happen, and when it did, it was just over with. There was no thought of retaliation or anything like that."
Mark Bowman is a reporter for MLB.com. Eric Single is an associate reporter for MLB.com. This story was not subject to the approval of Major League Baseball or its clubs.