Astros' streak in Anaheim ends on walk-off HR
Astros' streak in Anaheim ends on walk-off HR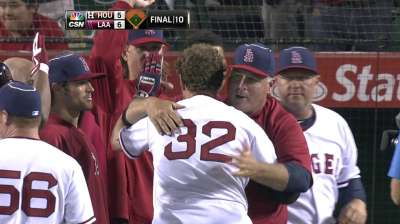 ANAHEIM -- Had the Astros had speedy outfielder L.J. Hoes at second base in the ninth inning of a tied game Saturday night, they would have found themselves in prime position to attempt to get the go-ahead run across the plate.
Jonathan Villar, a good bunter, was the next man up and could have set the stage for top-of-the-order hitters Robbie Grossman and Brett Wallace, each of whom had three hits. Hoes originally reached second base to start the ninth before an overturned call helped doom the Astros.
Josh Hamilton wound up scoring the winning run in the 10th inning when he tagged reliever Josh Fields for his fifth career walk-off homer to give the Angels to a 6-5 win over the Astros, who saw their five-game winning streak at Angel Stadium come to an end.
"It's tough," Hoes said.
Astros manager Bo Porter was clearly agitated with how the umpires handled the ninth.
With the scored tied at 5, Hoes hit a ball into right field and appeared to have a leadoff double despite being tagged by shortstop Erick Aybar while sliding into second base. Second-base umpire Eric Cooper called him safe, and Angels manager Mike Scioscia came out to argue. The umpires huddled and overturned the call, saying Hoes was out.
"I've never seen anything like where the umpire is in position to make a call, he makes a call and then agrees to get help on a call that he's in position to make," Porter said.
Porter stormed onto the field had a lengthy argument with Cooper and eventually first-base umpire Jeff Kellogg, but the out call remained. The next two batters struck out to end Houston's ninth, and the Astros went down in order in the 10th.
"It's obviously a big play," Porter said. "There's a man on second base and nobody out and it's a good opportunity to do some situational hitting and get him in. But that was not the case, and I think you guys all saw the outcome."
When asked what Cooper told him after changing the call, Porter said: "That he felt like he may not have seen it as clear as he wanted to see it and decided to get help."
Porter said he didn't look at the replay, which clearly showed Aybar tagging the side of Hoes' jersey as he slid past him. Hoes said he originally thought he was safe, but saw Aybar apply the tag after watching the replay.
"It would have been huge, just to lead off the ninth inning with a double and hopefully Villar would find a way to get me to third," Hoes said. "I'm at third base and one out and that's putting a lot of pressure on their defense and the pitcher. He has to throw strikes and he can't throw balls in the dirt and stuff like that."
Scioscia, of course, was pleased with the outcome.
"From our angle it looked like Erick got a tag on him," he said. "You could see some movement there and Erick isn't going to argue if he didn't tag him so from our angle we thought we had a tag and the umpires got together and reversed the call so you have to give them some credit. They got the call right."
Behind Wallace (3-for-5 with a homer), Grossman (3-for-5) and Chris Carter (2-for-4), the Astros banged out 14 hits, giving them at least 13 hits in consecutive games for the first time since April 9-10. Still, it wasn't enough to overcome a subpar outing by starter Dallas Keuchel.
The lefty worked four innings and allowed four runs and eight hits and was yanked after walking the first two batters in the fifth. Philip Humber came in and did a solid job by allowing one run in 2 2/3 innings, and Kevin Chapman, Josh Zeid and Fields (1-3) combined to throw 2 1/3 scoreless innings heading to the 10th.
"[Keuchel] didn't have his best stuff tonight," Porter said. "A lot of deep counts and it looked like he was not finishing his pitches. At the point Humber came into the game, I just felt we needed to get somebody in there that can match up against all the righties they have in their lineup, and Humber did a good job of getting us out of that situation."
Mark Trumbo homered off Keuchel in the second and hit a two-run triple in the third to help the Angels to a 3-2 lead. The Astros answered in the fifth, scoring three times on four hits, including a two-run homer by Wallace that tied the game and a double by Carter that scored Altuve from first base to put the Astros ahead, 5-4.
"The positive is we were in position to win the ballgame," Porter said.
Brian McTaggart is a reporter for MLB.com and writes an MLBlog, Tag's Lines. Follow @brianmctaggart on Twitter. This story was not subject to the approval of Major League Baseball or its clubs.