Stanton, Marlins try to rally, but can't contain Giants
Stanton, Marlins try to rally, but can't contain Giants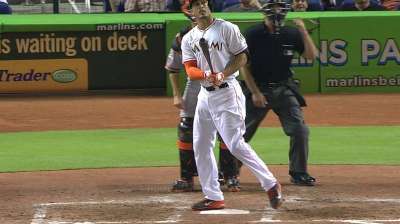 MIAMI -- Giancarlo Stanton's home run swing returned on Saturday night, but the Marlins' inability to shut down the Giants continued.
Gregor Blanco delivered a two-run triple and Matt Cain allowed two runs on four hits in seven innings to lift the Giants to a 6-4 win over Miami at Marlins Park.
A night after being outslugged, 14-10, by the Giants, the Marlins couldn't keep San Francisco in check again on Saturday. And a couple of plays not executed in the field, combined with four walks in the eighth inning, resulted in a sloppy loss.
"We kind of gave that one away," Miami manager Mike Redmond said. "I haven't said that too often this year. We didn't execute a fundamental there, and that cost us."
Miami right-hander Henderson Alvarez had his night ruined by a rough fourth inning, a frustrating frame that featured two of his four walks and a close play that went the Giants' way at first base.
Logan Morrison gave Miami a chance in the eighth inning with a two-run double that made it a two-run game. But the Marlins ended up dropping two straight, and they look to avoid being swept in the series finale on Sunday.
"I'm happy with the way we battled offensively," Redmond said. "Guys continue to put together good at-bats."
The positive sign on the night was the return of the home run by Stanton. He crushed his first homer since July 28 against the Pirates, a span of 59 at-bats.
"His batting practices have been a lot better," Redmond said. "His approach is getting a lot better. It looks like he's more confident, and the swing has been a lot better."
In the sixth inning, the 23-year-old blasted a two-run shot off Cain that sailed a estimated 446 feet into the Budweiser Bar located beyond the wall in left. Donovan Solano, who singled to open the inning, also scored on Stanton's 14th homer of the season.
Stanton's homer came on a full count -- one pitch after he was knocked to the dirt by a rising inside fastball. While scampering out of the way, Stanton nearly inadvertently swung, and the Giants appealed to first-base umpire Larry Vanover, who said no.
Stanton says the inside pitch glanced his left wrist, but it was not detected.
"It skinned my wrist," Stanton said. "But you can't make an argument with that, if you can't see [a mark]. Did I swing at it? Or did I try to get out of the way more? That looked like a quick check swing, then [release the bat]. I'll take it, instead of a hit by pitch."
The Marlins certainly weren't complaining. They were relieved with the final result of the at-bat.
"I think we caught a break there, because it looked like he swung at that ball," Redmond said.
The home run reduced Miami's deficit to 4-2.
The Giants did their big damage in the fourth, scoring four runs with two outs. The inning slipped away from Alvarez after Pablo Sandoval was credited with an infield RBI single on a play that could have been the third out.
Brandon Belt walked with one out to open the fourth, and Buster Posey singled to center. Hunter Pence struck out, but the ball skipped away from catcher Koyie Hill for a wild pitch.
The inning changed when Sandoval ripped a hard ground ball that Morrison made a diving stop on at first base. Alvarez got a late jump, but sprinted to cover first. By that time, Morrison opted to race to the bag himself. He was unable to beat the head-first-sliding Sandoval.
"I started a little late," Alvarez said in Spanish. "I thought I had a little time, so maybe if LoMo threw it, we would have got him out. But that's baseball. Stuff happens."
The play nearly resulted in a three-way collision, with Morrison sliding feet first, and Sandoval flopping head first. Alvarez jumped over them both. Sandoval was shaken up a few seconds, but he remained in the game.
"On that play, you have a split-second to decide," Redmond said. "Henderson was definitely late getting off the mound, but he did make up the ground. But once LoMo saw Henderson was late, he just put his head down and tried to see if he could beat him to the bag.
"Henderson did look like he got over there in time. You have about a half-second to decide what you're going to do there. Unfortunately, it didn't work out for us."
Rather than being out of the inning with no runs, the Giants were on the board, and they tacked on three more.
"Great hustle, first of all," Giants manager Bruce Bochy said. "That probably won the game for us, kept the rally going."
The inning unraveled when Alvarez balked, allowing Posey to score. After Roger Kieschnick walked, Blanco delivered a two-run triple on a ball rookie center fielder Jake Marisnick missed while attempting to make a diving catch.
In the eighth inning, the Giants tacked on two insurance runs, capitalizing on four walks. It was a crucial add on, because it padded San Francisco's lead to four runs. And Miami chipped back in its half of the inning on Morrison's two-run double.
A.J. Ramos walked the bases loaded, and with two outs, Mike Dunn entered and walked Sandoval to force in a run. The second run of the inning scored on Kieschnick's infield single.
"Ramos came in and got into a huge jam," Redmond said. "He's been so good this year, limiting baserunners and limiting walks. Those two runs ended up being pretty big."
Joe Frisaro is a reporter for MLB.com. He writes a blog, called The Fish Pond. Follow him on Twitter @JoeFrisaro. This story was not subject to the approval of Major League Baseball or its clubs.