Gallardo returns to outduel Reds with sharp start
Gallardo returns to outduel Reds with sharp start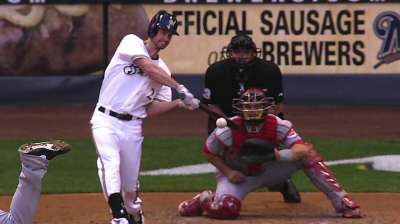 MILWAUKEE -- A season that began with heavy expectations will end with opportunity for Yovani Gallardo.
Returning from the disabled list with six weeks left to prove he belongs atop the Brewers' starting rotation, Gallardo delivered 6 1/3 innings in a 2-0 win against the Reds at Miller Park, where 37,046 fans showed up for the home team's final summer Saturday and got a glimpse of an Opening Day starter intent on a late-season surge.
Brewers manager Ron Roenicke was just as eager to see what Gallardo would bring to the mound. He spoke with some degree of urgency in the hours before Gallardo returned from two and a half weeks spent rehabbing a left hamstring strain.
"We need to get him on a roll," Roenicke said before the game. "We obviously came into this season with a lot put on him because of what he's done in the past. We really needed this guy to pitch well, and he's certainly disappointed in what he's done so far.
"I know it's in there, so hopefully we get that back."
At least for a night, it was all there. Gallardo scattered three Reds hits and had some help from outfielder Logan Schafer, who snapped an 0-for-21 slump with a two-run double in the fourth inning, and reliever Brandon Kintzler, who helped preserve Gallardo's scoreless outing in the seventh.
Kintzler continued his recent surge by pitching through the eighth inning, and Jim Henderson worked the ninth for his 18th save as the Brewers took two of the first three in the four-game series.
Roenicke termed Gallardo's performance a "pleasant surprise." When asked whether he surprised himself, Gallardo shrugged and said, "Maybe."
"Being out for a few weeks, who knew how it was all going to start off?" he said.
Gallardo finished 6 1/3 innings, with two walks and three strikeouts. He did not allow a baserunner until the fourth inning, when Joey Votto worked a two-out walk and Brandon Phillips followed with a single before getting picked off.
When Phillips singled again with one out in the seventh inning on Gallardo's 82nd pitch, Roenicke went to Kintzler. Jay Bruce hit a sharp single and Ryan Ludwick hit a bloop that loaded the bases for pinch-hitter Xavier Paul, who grounded into an inning-ending double play that preserved the Brewers' 2-0 lead.
Kintzler has been unscored upon in 23 of his last 24 appearances, with a 0.60 ERA in that span. He has not allowed a run in his last 20 1/3 innings, and is holding left-handed batters to a .147 average, including 1-for-4 on Saturday.
He is not alone. Of the many ways to measure the improvement of the Brewers' pitching since the club's disastrous May, this may be the best: When Gallardo took the mound on June 15 in Cincinnati, in Milwaukee's 67th game, the Brewers had zero shutout victories.
Fifty-six games later, they have 11 shutout victories.
"That's just showing what we were wanting to be coming out of Spring Training," Kintzler said. "It shows what we were capable of."
Coming out of Spring Training, Gallardo was the unquestioned ace of a retooled Brewers rotation that club officials hoped could keep the team in games long enough to allow the league's top offense to bash its way to wins. Instead, the offense was beset by injuries and the pitching ranked among baseball's worst in April and May, with Gallardo among the culprits.
He considered Saturday the start of an opportunity to finish strong. Gallardo improved to 9-9 with a 4.68 ERA.
"Obviously, it hasn't been the year I wanted to have, but that's in the past," Gallardo said. "Just focus on the fresh start, and today was a good step forward for the last month and a half of the season, however many starts I have, to go out there and finish off strong and be consistent. You always want to finish on a positive note."
Reds starter Mat Latos has been going strong for a while, with four wins and a 1.32 ERA in his first four starts out of the All-Star break. On Saturday, he was untouched aside from a two-out rally in the fourth, when Khris Davis and Scooter Gennett extended the inning with singles before Schafer's double to the base of the right-field wall.
It was Schafer's first hit since July 30.
"With our pitching staff and the way we've been pitching, yeah, I thought it might hold up," Schafer said.
It did hold up. Latos took the loss after allowing two runs on six hits in seven innings, with three walks and six strikeouts.
"They pitched a good game," Reds third baseman Todd Frazier said. "We're better than this and we know that."
Adam McCalvy is a reporter for MLB.com. Read his blog, Brew Beat, and follow him on Twitter at @AdamMcCalvy. This story was not subject to the approval of Major League Baseball or its clubs.