Bats grounded as Latos, Reds outdueled by Crew
Bats grounded as Latos, Reds outdueled by Crew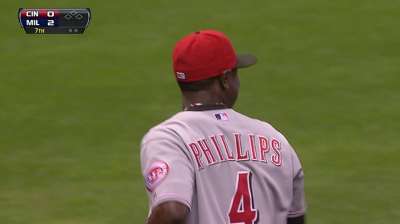 MILWAUKEE -- The Reds came to Miller Park on Thursday looking to extend their hot streak against the team in the National League Central basement.
Now, they move to Sunday hoping to leave with a four-game split.
Yovani Gallardo returned from the disabled list Saturday to silence the Reds' bats over 6 1/3 innings and Logan Schafer's fourth-inning two-run double held up for a 2-0 Brewers win at Miller Park.
The Reds remained 3 1/2 games back of NL Central-leading Pittsburgh with the Pirates' 15-5 loss to the D-backs on Saturday, but they lost a game on the second-place Cardinals, who won 4-0 in Chicago and are two games back.
After taking the series opener on Thursday, the Reds' pitching blew up on Friday and the offense was nowhere to be found on Saturday, leaving them needing a win in the finale to pull away even.
Manager Dusty Baker pointed out that will be no easy task.
"We haven't gotten a split yet," Baker said. "To get a split, we have to win tomorrow. Disappointment is what life is about; how you deal with disappointments. We've got a game to play here. We didn't gain any ground tonight, but we didn't lose any. So we'll see tomorrow."
The only offense on Saturday came on a two-out Milwaukee rally in the fourth inning off Reds starter Mat Latos. Khris Davis and Scooter Gennett got things started with singles off the right-hander and Schafer supplied all the offense Gallardo would need with a double to right field, scoring both runs. Schafer turned on a 1-0 curveball that Latos said he left up in the zone.
"We beat a really good pitcher," Brewers manager Ron Roenicke said. "That's what's nice lately [with] our pitching staff, we're holding our own against everybody and we're giving our offense a chance to score some runs and beat some really good guys."
Schafer's double snapped an 0-for-21 skid and simultaneously ended Latos' 18 1/3-inning scoreless streak.
"I wasn't able to get strike one, and strike one is the most important pitch in this game," said Latos, who took his first loss since July 11 after throwing seven innings, allowing two earned runs on six hits, while walking three and striking out six. "Fall behind, they basically get to hit whatever they want to hit. That one bad inning, I hung a breaking ball, they hit a couple and two runs scored. That's just the way the game goes. Two runs will beat you on any given day."
It was more than enough for Gallardo, who missed more than two weeks on the DL with a strained left hamstring but looked in prime form on Saturday.
The right-hander rolled through the first three frames and did not allow a baserunner until Joey Votto walked with two outs in the fourth. Brandon Phillips followed with a single to break up the no-hit bid, but he was picked off first base shortly after to end one of two Cincinnati threats on the night.
Gallardo scattered three hits over 6 1/3 innings to even his record at 9-9.
"He kept the ball down, which is what he's known for," Baker said. "We hit some balls hard off him, but they had us played perfectly. They didn't even have to move on most of them. You can't control where the ball goes after you hit it."
"[Gallardo's] slider was probably his most effective pitch," Reds third baseman Todd Frazier said. "It's about the same speed as the fastball, so you've got to pick one out and a lot of the times we were just getting the wrong pitch to hit. He was working the pitches effective in-out, in-out, and you tip your cap to him, that's all you can do. We're better than this and we know that."
The best Reds' scoring chance came after Gallardo exited the game after giving up a single to Phillips with one out in the seventh inning. Brandon Kintzler came on and quickly surrendered back-to-back singles to Jay Bruce and Ryan Ludwick. He got out of the jam, though, when pinch-hitter Xavier Paul grounded into a 4-6-3 inning-ending double play.
"We had the right guy up there against the right kind of pitcher," Baker said. "He hit the ball hard but right to him and it's a double play."
Kevin Massoth is an associate reporter for MLB.com. This story was not subject to the approval of Major League Baseball or its clubs.