Royals rally more than once, but fall to Tigers
Royals rally more than once, but fall to Tigers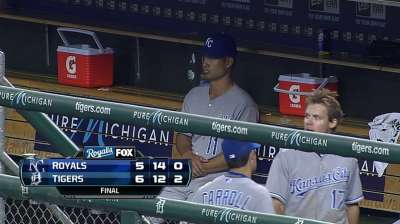 DETROIT -- It was a knock-down, drag-out fight. So, naturally, it was baseball's biggest heavyweight who delivered the final, savage punch.
Miguel Cabrera -- who else? -- belted a ninth-inning leadoff home run to lift the Detroit Tigers over the Kansas City contenders, 6-5, on Saturday night as a sellout crowd of 41,850 fans roared at Comerica Park. Cabrera drove a fastball from reliever Aaron Crow over the wall down the right-field line for a walk-off win.
The victory eased the Tigers' stress over a doubleheader KO by the Royals on Friday night, evened the series at two wins each, and set up the fifth and deciding game on Sunday afternoon. And it squelched a series of come-from-behind punches by the Royals.
"We couldn't get the lead. We kept battling back and had opportunities to get it," Royals manager Ned Yost said. "We just couldn't capitalize on it."
The Royals had just scrambled back for a 5-5 tie -- the third time they'd pulled even -- in the eighth inning. They couldn't score in the ninth, and into the game came Crow.
First up: Cabrera, the wounded warrior who's been playing through a sore hip, knee and other aching body parts, but still leads the universe in virtually every important hitting category.
Crow delivered a 3-1 pitch that Cabrera powered down the right-field line and high into a camera well that sits above the 330-foot mark.
"It was too far, it was way out of my reach," said right fielder David Lough. "It just kept going."
And the Tigers were celebrating a walk-off victory.
"He hit a good pitch," Yost said. "Maybe three hitters in baseball could hit that ball out of the park and he's one of 'em."
"Yeah," Crow said, "but I mean you can't fall behind anyone 3-1 and expect to be successful. I just got to make better pitches early in the count and just throw strikes, really.
"It was a fastball. It was up a little bit but it was out. Not many guys can hit a ball like that the other way but he's a special player."
No argument from Royals catcher Salvador Perez, who waited in vain for that pitch from Crow.
"It's unbelievable, it's unbelievable. He's the best hitter in the league. We got behind in the count. The pitch was down-and-away, 96 [mph]," Perez said. "I think he's the only guy that can hit a ball like that right now."
Cabrera was well aware that, in his previous encounters with Crow, he was hitless.
"I was struggling with this guy. I was 0-for-7; he always got me with a slider or a high fastball," Cabrera said. "I said to myself, 'Just wait for one pitch at a time. Make adjustments every pitch.' Early in the count I was looking for his slider, he threw me one and I missed it. So later I said, 'OK, he's behind in the count, so let's be aggressive and be ready for a fastball.'"
He was ready.
It was a home run by Perez that brought the Royals even at 4 in the seventh inning, a high shot that he pulled down the left-field line against left-handed reliever Drew Smyly. But the Tigers went ahead, 5-4, in their half as Prince Fielder pounded a long home run to right field off left-hander Will Smith.
The punches kept flying.
Again the Royals came back for a 5-5 tie in the eighth when Emilio Bonifacio singled against Jose Veras, stole second, went to third on catcher Bryan Holaday's throwing error and scored on Chris Getz's single.
All that came after Detroit dominated the early drama.
The Tigers got mightily agitated in the fourth inning. They had a 3-2 lead but, after Getz opened the inning with a single, Doug Fister's pitch to Alcides Escobar went all the way to the backstop. Oddly, catcher Brayan Pena did not give chase, and Fister sprinted all the way to retrieve the ball.
Hmmm. Pena, correctly as it turned out, believed that Escobar had fouled off the pitch. But plate umpire Mike Muchlinski didn't notice and Getz was on third with what was ruled a wild pitch. But Pena cried foul and Tigers manager Jim Leyland came out for a lengthy inquiry. At any rate, Getz stayed at third. Leyland retired to the dugout but, after finding that the video replay showed it was a foul ball, he let the umpires have it from the dugout and was ejected. So out he came again for a final energetic, vein-popping recitation of the umpires' shortcomings.
Everyone agreed the umpires were wrong. Escobar admitted it was a foul ball and so did Yost. The umps just didn't see it.
"That's really on me because I should've seen the ball change directions," first-base umpire Bob Davidson said. "That's impossible for the plate guy to see because the ball is in the dirt and he's got the catcher in front of him. The only hope is that you can hear it. For me at first base, I just didn't see it hit the bat. Really, that's my fault. It's my responsibility because I got the view of it. And, I got new contacts and I still couldn't see it."
What Escobar soon saw was a Fister curveball that he ripped into left field for a double that scored Getz, and the Royals were even at 3.
Next thing you know, a still-incensed Pena was being told to vacate the premises by umpire Muchlinski which, most reluctantly, he did and fired his mask through the dugout exit in disgust.
After peace was restored, Royals starter Wade Davis was tagged for a fourth run in the bottom of the inning as Cabrera -- of course -- belted an RBI double. That ended Davis' outing after he piled up 93 pitches.
When it was over, the Royals were on the canvas, looking up again at a 7 1/2-game gap between them and the Tigers.
"It's a great ballgame and it's an outstanding team. They're very athletic and they're very good," Leyland said. "Like Ned said, they're trying to make a statement. Basically what it amounts to is they're trying to catch us and we're trying to keep them from catching us. So far it's squared up, and we've got a rubber game tomorrow."
Dick Kaegel is a reporter for MLB.com. This story was not subject to the approval of Major League Baseball or its clubs.