Miggy delivers late again with walk-off homer
Miggy delivers late again with walk-off homer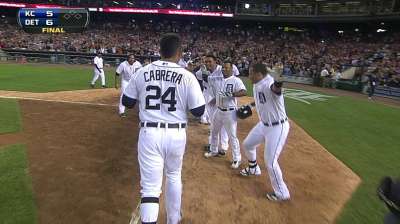 DETROIT -- The crowd of 41,850 at Comerica Park was expecting fireworks after the game on Saturday night. Miguel Cabrera provided them a little early with a walk-off home run into the right-field seats during the ninth inning to give the Tigers a 6-5 win against the Royals.
Cabrera was 0-for-7 with two strikeouts in his career against Royals reliever Aaron Crow before hitting his 39th home run of the season. Three of Cabrera's past six homers have come in the ninth inning.
"I was struggling with this guy. I was 0-for-7; he always got me with a slider or a high fastball," Cabrera said. "I said to myself, 'Just wait for one pitch at a time. Make adjustments every pitch.' Early in the count I was looking for his slider, he threw me one and I missed it. So later I said, 'OK, he's behind in the count, so let's be aggressive and be ready for a fastball.'"
Cabrera didn't miss Crow's 96-mph fastball, helping give the Tigers a 7 1/2-game lead in the American League Central over the third-place Royals. Detroit leads the second-place Indians by six games.
"He's the best hitter I've ever seen," said Tigers starter Doug Fister, who allowed three runs on 10 hits in 6 1/3 innings while walking two and striking out six. "He's pretty special. The guys lean on him for these great situations, and it's one of those things where he comes through for us all of the time."
Said Royals manager Ned Yost: "He hit a good pitch. Maybe three hitters in baseball that could hit that ball out of the park and he's one of 'em."
Cabrera has been battling a number of injuries for the past month but admitted that he's feeling better this week. Seven of his last 17 hits have been home runs. However, that's not to say it's been easy for him to take the field every day.
"It's a good challenge, man. People say the expectations are so high, so I push a little bit," Cabrera said. "Every game, every at-bat you want to do something good, because I think people pay for that. It's hard for us, because people pay for something. Not only me, but the whole team -- they want to see something special every night."
After being held to five hits and one run in Friday's doubleheader, the Tigers scored two runs on three hits in the first inning. Prince Fielder hit a two-out double to left-center to score Don Kelly, who singled earlier in the frame. Victor Martinez then scored Fielder on a single to left to give Detroit an early 2-0 lead.
Jose Iglesias helped the Tigers stretch their lead to 3-0 when he dropped a suicide-squeeze bunt to score Omar Infante in the second inning. The Royals responded with two runs in the third and another in the fourth to tie the game.
"It was a battle all night," Fister said. "It was one of those things that they have a great lineup over there. A lot of pesky hitters as far as putting the ball in play and fouling a lot of balls off."
Kansas City was able to tie the game in the fourth following a confusing play after Chris Getz hit a leadoff single. Fister threw a pitch that bounced in front of the plate, and it appeared Alcides Escobar fouled the ball. Catcher Brayan Pena asked home-plate umpire Mike Muchlinski for a new ball, but Muchlinski said it was a wild pitch, and Getz advanced to third.
Manager Jim Leyland was subsequently ejected for arguing. Escobar then drilled an RBI double down the third-base line, scoring Getz to tie the game, which led to Pena being ejected for arguing.
Cabrera hit an RBI double to put Detroit back in the lead in the bottom of the fourth, before Salvador Perez tied the game at 4 with a solo home run in the seventh.
Fielder then gave the Tigers another lead in bottom of the seventh when he drilled a solo home run to right-center. The Royals responded with Getz's RBI single in the eighth inning that tied the game before setting the stage for Cabrera's heroics.
Fielder has two home runs in the past four games after going 82 at-bats without going deep. With Cabrera and Fielder playing to their full potential, combining for two home runs and four RBIs on Saturday, the Tigers will be tough to beat.
"It's a long season, it's like waves, you're down and up," Cabrera said about Fielder. "You find a wave to get out of it. You're swimming, going to battle, and you say, 'It's a long season.' He's one that leads our team. If he hits like he did today, I think we're going to be OK."
Bobby Nightengale is an associate reporter for MLB.com. This story was not subject to the approval of Major League Baseball or its clubs.