Homers hurt Hernandez in loss to Blue Jays
Homers hurt Hernandez in loss to Blue Jays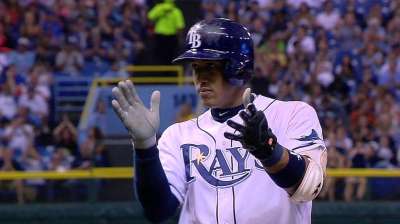 ST. PETERSBURG -- Roberto Hernandez had yet another rough outing in the Rays' 6-2 loss to the Blue Jays on Saturday at Tropicana Field.
Hernandez gave up five runs (four earned) on seven hits in 5 2/3 innings for his third loss in his last five starts. His 5.00 ERA is the worst mark among Rays starters and has ballooned to over seven in his three August starts.
Saturday did little to change that, as Hernandez left what he called a "bad slider" over the plate in the first inning to Jose Bautista, who promptly launched it into the left-field stands.
Toronto added to its lead in the third after Rajai Davis led off with a bunt single and stole second base. He eventually scored on a groundout. Bautista, who was hit by a Hernandez pitch, would also come around to score on Brett Lawrie's two-out single.
Rays manager Joe Maddon has called Hernandez his most "contact-oriented" starter, as his sinking fastball is designed to draw ground balls like Lawrie's -- not swings and misses -- but lately, the grounders seem to be finding holes.
"That's going to happen when you pitch to contact, but unfortunately, it's been happening a lot for Roberto," outfielder Sam Fuld said.
Hernandez's 13 losses are tied for the Major League lead, but his teammates have not held up their end of the deal on offense either. In those losses, the Rays have scored a combined 17 runs with Hernandez in the game.
"I can't control run support," Hernandez said. "I can control how I pitch."
Tampa Bay stranded seven runners Saturday, three of them in scoring position.
"He deserves better," Fuld said. "His record is not indicative of how he has pitched. It's nothing but bad luck."
Hernandez's days in Tampa Bay's rotation may be numbered, depending on when All-Star starter Matt Moore makes his return from the disabled list.
"You have to have the depth to fight through those moments," Maddon said. "Your depth is always going to be tested, and you have to be able to answer. I don't bemoan any of that. That's part of this game."
Maddon has defended Hernandez this season, pointing to the lack of runs as the key to the pitcher's unsatisfactory results, but acknowledged Saturday that Hernandez had not performed well in high-leverage situations.
"The game is all about those little moments, and maybe there have been more mistakes in those moments when you look at the record, but he hasn't thrown the ball that badly." Maddon said.
Blue Jays starter J.A. Happ was impressive in his first start at Tropicana Field since being struck in the head with a line drive on May 7. Happ held the Rays to two runs on five hits over 5 1/3 innings with five strikeouts.
"I was looking forward to [returning to Tropicana Field]," Happ said. "I haven't pitched the best here, and I was looking forward to the opportunity to change that up a little bit, to have a good game, keep us in the game, and I was happy I was able to do that."
After not allowing a hit through three innings, Happ cracked in the fourth when Jason Bourgeois led off with a bunt single. Evan Longoria moved Bourgeois with a single of his own before Ben Zobrist scratched the Rays' first run across with a sacrifice fly. Yunel Escobar's single up the middle scored Longoria thanks to center fielder Anthony Gose's throw bouncing off the pitcher's mound.
The Blue Jays added two more runs in the sixth, Hernandez's last inning. He surrendered a solo home run to Adam Lind before allowing a double to Lawrie. He was removed for reliever Alex Torres after recording his second and third strikeouts of the game. Lawrie promptly stole third base, prompting an off-line throw from Torres that allowed Lawrie to score.
Lind went deep again in the eighth off reliever Brandon Gomes on an 0-2 count. Saturday marked Gomes' first appearance since straining his right lat on May 7.
"I felt great," Gomes said. "I had good command. I just wish I could take back one pitch, because that's not a count you ever want to get beat on, but I'm just happy to be pitching again."
The Rays dropped a game in the American League East Division standings Saturday as the first-place Red Sox beat the Yankees. Tampa Bay now trails Boston by two games.
Sam Strong is an associate reporter for MLB.com. This story was not subject to the approval of Major League Baseball or its clubs.