Richards showing promise to stick in rotation
Richards showing promise to stick in rotation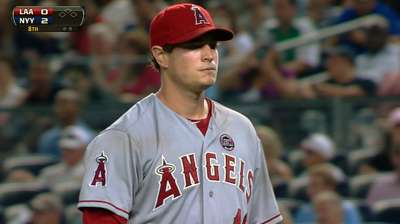 ANAHEIM -- Garrett Richards' role has changed multiple times throughout the season.
The right-hander has split time between the rotation and the bullpen, and Angels manager Mike Scioscia has said he could ultimately see Richards as either a starter or a closer.
However, Richards' recent performance may be clearing up that forecast.
Richards began his most recent stint in the rotation with four consecutive quality starts -- the fourth was also his first career complete game.
"In Spring Training, Garrett threw the ball better than anybody we had, as a starter," Scioscia said. "This is definitely the most locked in that we've seen him as a starter."
After allowing five runs on 12 hits in six-plus innings Saturday night, Richards is now 2-3 with a 4.34 ERA as a starter this season. Despite Saturday's start not living up to expectations, Scioscia saw some positives from the right-hander.
"I thought he had better stuff than maybe what his line score is going to show," Scioscia said.
The Angels plan to address their pitching staff in the upcoming offseason, and if Richards continues to excel, he may be part of the solution.
"He's getting into a comfort zone as a starter," Scioscia said. "If he continues this trend and continues to understand how to put pitches together and what his stuff is, there's no reason why he is not going to be in the scenario next year to come out and win a job as a starter."
William Boor is an associate reporter for MLB.com. This story was not subject to the approval of Major League Baseball or its clubs.