Rehabbing Tomlin eyeing September return
Rehabbing Tomlin eyeing September return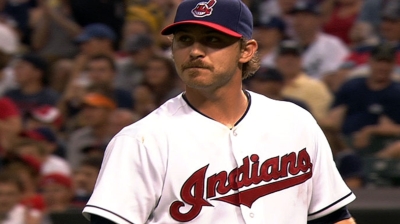 OAKLAND -- Indians pitcher Josh Tomlin made it a goal to come off the disabled list by the time he reached the one-year anniversary of his Tommy John surgery. Tomlin will likely need to wait a little longer than he hoped.
Thursday will mark one year since Tomlin underwent reconstructive elbow surgery, but Indians manager Terry Francona said the right-hander will probably return to the pitching staff at some point after Sept. 1, when rosters are able to expand to 40 players.
"That'd be more realistic," Francona said prior to Saturday's game against the A's. "He's at four innings and we've got two weeks. That wouldn't be fair to him."
Tomlin, who is currently on the 60-day disabled list, logged four innings in a Minor League rehab outing for Double-A Akron on Friday. He allowed one run on two hits and finished with three strikeouts and no walks for the Aeros.
In seven Minor League rehab games, Tomlin has spun 12 1/3 shutout innings with 10 strikeouts, five hits allowed and no walks issued.
"I'm very excited about the progress I've made so far, for sure," Tomlin said via text message. "I'd like to keep it going to be honest. I know it's not results based, but it feels good to have the results that I have been looking for. And for me, that's not walking anyone and being around the strike zone pretty consistently.
"My arm feels great and I'm very excited about joining the team whenever that may be. The main thing for me is that I'm able to bounce back pretty quick, not having any discomfort the day after or the days in between."
Tomlin went 5-8 with a 6.36 ERA in 21 appearances for Cleveland last season before being shelved with the elbow injury. In 2011, the right-hander enjoyed a breakout season, going 12-7 with a 4.25 ERA across 26 outings for the Tribe.
Francona indicated that Tomlin could potentially rejoin the Indians as a spot starter for September.
The manager also noted that Tim Belcher, a special assistant to the baseball operations department, and Tomlin's pitching coach with the Indians in 2011, was on hand in Akron to monitor the pitcher's latest performance.
"Belch was there and saw him," Francona said. "He said he had pretty good action on his two-seamer and his changeup was good. His command was pretty good. The curveball is probably the last one to maybe come, which I think is understandable. For the most part, Belch was pretty impressed."
Jordan Bastian is a reporter for MLB.com. Read his blog, Major League Bastian, and follow him on Twitter @MLBastian. This story was not subject to the approval of Major League Baseball or its clubs.