Swisher fondly recalls time in Oakland
Swisher fondly recalls time in Oakland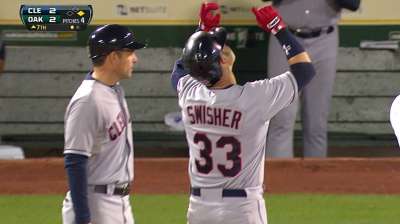 OAKLAND -- Nick Swisher stepped to the plate in the seventh inning on Friday night and the Coliseum crowd unleashed a chorus of boos. One day later, the Indians first baseman was laughing about the reaction from his former home audience.
"It's crazy, man," Swisher said. "I mean, I was traded from here. You know?"
Swisher, who smacked a solo homer in the first inning of Saturday's game, knows that the negative reaction likely stems from the fact that he suited up for the Yankees for four seasons before signing with Cleveland over the offseason. It does not matter that he was traded to New York, once a player dons pinstripes, he is automatically an enemy in plenty of cities.
Swisher does, however, look back fondly on his time with the A's.
"This was a great place for me," said Swisher, who was selected out of Ohio State University by Oakland in the first round of the 2002 First-Year Player Draft. "It was a great place to come up. We had such good teams and we were just a bunch of young dudes having a blast. For me, this was a perfect place to come up. It fit my personality and they welcomed me with open arms."
In parts of four seasons with the A's, Swisher hit .251 with 80 home runs, 96 doubles, 255 RBIs, 260 walks and 267 runs in 458 games. Oakland signed Swisher to a five-year extension in May 2007, but then traded him to the White Sox in January 2008 in exchange for Gio Gonzalez, Ryan Sweeney and Fautino De Los Santos.
Chicago dealt Swisher to the Yankees prior to the 2009 season.
"I've been able to kind of play in every kind of organization," Swisher said. "Oakland isn't necessarily a small-market team any more, just because of how good they are. But I went from Oakland, which was a very low-profile team, and then I went to Chicago, which was a step up. Then I played in New York, which is the ultimate. I've gotten a taste of every level."
Did it bother Swisher to hear boos from A's fans?
"It is what it is, man," he said. "You never know why people do things. Either way, I've got a great outlook on this place. But, it is crazy sometimes."
Jordan Bastian is a reporter for MLB.com. Read his blog, Major League Bastian, and follow him on Twitter @MLBastian. This story was not subject to the approval of Major League Baseball or its clubs.