Green settling into big league swing with Angels
Green settling into big league swing with Angels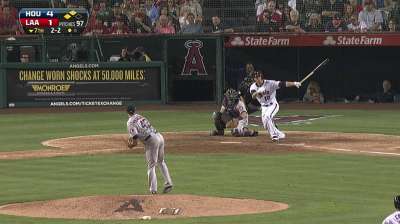 ANAHEIM -- The sample size was small -- and it still is -- but after an 0-for-15 start to his career, Grant Green grew tired of people wondering when he was going to collect his first Major League hit.
The infielder knew he could hit, posting batting averages of .316, .318, .291, .296 and .326 in five Minor League seasons.
His MLB.com scouting report reads, "He can swing the bat, with an ability to send line drives to all fields with some extra-base power."
All that was missing were the results to prove it, and ever since Green donned an Angels uniform, the results have been there.
"I'm getting more repetitions here, playing a lot more," said Green, who is ranked as the No. 3 prospect in the Angels' system.
In Green's first at-bat as an Angel, he collected his first career hit. In his second at-bat, another one.
Green is hitting .433 (13-for-30) since joining the Angels, has hits in seven of his past 10 games and already has notched five multi-hit games.
"I'm just more comfortable," Green said. "I don't feel like I'm in a groove where the ball looks like a beach ball in a sense, but at the same time, I'm getting more ABs and being able to settle into a new organization and being able to settle in to hitting in the big leagues."
Although Green's brief stay in Oakland was frustrating because of the lack of production, the Southern California native knows the experience helped him and was simply part of the process.
"The stint up in Oakland definitely helped because you get to see firsthand what it is like," Green said. "I think if I didn't have that stint and came up here, I probably would have had the nerves that I had when I was in Oakland. I came over here the first day and the nerves weren't there. It was nice."
William Boor is an associate reporter for MLB.com. This story was not subject to the approval of Major League Baseball or its clubs.